Our philosophy and process
Harnessing Newton's global analysis resources, the strategy adheres to our investment framework focused on fundamentals, themes, valuations and ESG considerations.

We focus on innovative companies and dynamic management teams that provide solutions and benefit from growth opportunities. Active corporate engagement and proxy voting provide powerful feedback loops that make us more informed shareholders who promote positive corporate development.

The strategy is conviction-based, with no regional, sector or performance reference constraints. It has a simple structure, with a stable core of predominantly traditional return-seeking assets, and a layer of risk-offsetting positions which aim to dampen volatility and preserve capital.

Sustainable 'red lines', with responsible investment team validation, seek to ensure there is no investment in security issuers that:

Breach the UN Global Compact
Are incompatible with a 2˚C world
Are deemed to have material ESG risks which are likely to negatively affect future performance and are associated with significant social or environmental harm

The strategy seeks to avoid investing in companies that participate in specific areas of activity that we deem to be harmful from an environmental and/or social perspective.

Every time we consider a security or look at an industry or country, it's in the context of what's happening across the world. We believe the investment landscape is shaped over the long term by some key trends, and we use a range of global investment themes to capture these.
Investment team
Our Sustainable Real Return strategy is managed by an experienced team with a wide range of backgrounds. Our investment team of research analysts and portfolio managers works together across regions and sectors, helping to ensure that our investment process is highly flexible. Guided by our global investment themes, we seek to identify opportunities and risks through research and debate.
20

years' average investment experience

14

years' average time at Newton
Philip Shucksmith

Portfolio manager, Real Return team

Matt Brown

Portfolio manager, Real Return team

Suzanne Hutchins

Portfolio manager, Real Return team

Aron Pataki

Portfolio manager, Real Return team

Andy Warwick

Portfolio manager, Real Return team

Lars Middleton

Portfolio manager, Real Return team

Brendan Mulhern

Global strategist, Real Return team

Catherine Doyle

Investment specialist

Chris King

Investment team support
Strategy profile
Objective

The strategy aims to achieve a rate of return in sterling terms that is equal to or above the return from cash (SONIA (30-day compounded)) +4% per annum over five years before fees. In doing so, it aims to achieve a positive return on a rolling three-year basis (meaning a period of three years, no matter which day you start on). However, capital is in fact at risk and there is no guarantee that this will be achieved over that, or any, time period.

Performance benchmark

SONIA (30-day compounded) +4%*

Volatality

Expected to be between that of bonds and equities over the long term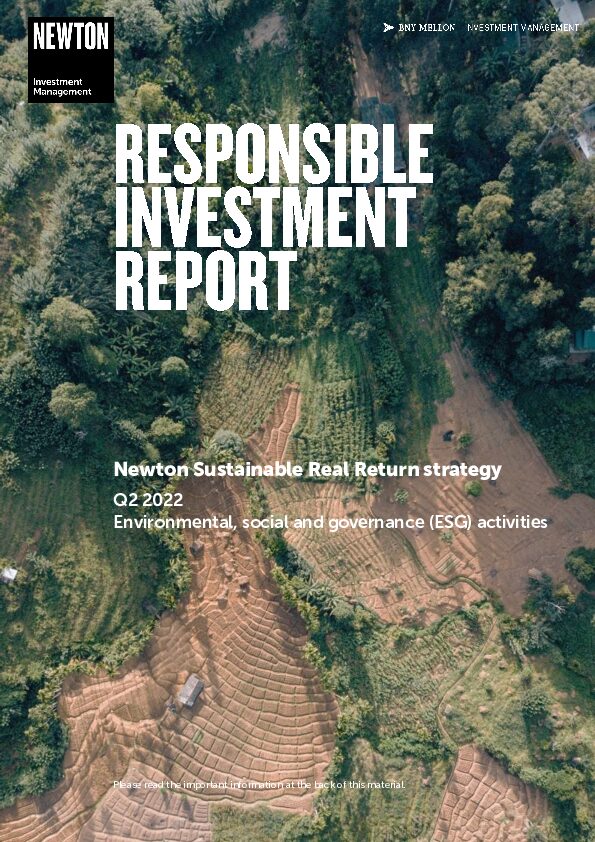 Responsible investment report
Stewardship activities (voting and engagement) for the last quarter and ESG metrics.
Your capital may be at risk. The value of investments and the income from them can fall as well as rise and investors may not get back the original amount invested.
Newton will make investment decisions that are not based solely on ESG considerations. Other attributes of an investment may outweigh ESG considerations when making investment decisions. The way that ESG considerations are assessed and the assessment of their suitability for Newton's sustainable strategies may vary depending on the asset class and strategy involved. For Newton's sustainable strategies, ESG Quality Reviews are performed prior to investment for corporate investments (single name equity and fixed income securities).