Our philosophy and process
The strategy invests in a diversified range of assets, from equities and bonds to alternative assets. A constantly evolving and forward-looking approach seeks to anticipate change, manage risk, and identify opportunities.
Environmental, social and governance (ESG) considerations are integrated throughout the research process and via proprietary quality reviews, to ensure that any material issues are captured.
China influence
The influence of China on the world has grown exponentially but its economy looks increasingly risky. 'China influence' looks at how the country's development affects the investment outlook beyond its borders.1
1 Compared to more established economies, the value of investments in emerging markets may be subject to greater volatility owing to differences in generally accepted accounting principles or from economic or political instability or less developed market practices.
State intervention
Authorities have engaged in ever-greater policy intervention and regulation to shore up economic growth. We believe 'state intervention' has increased misallocation of capital, caused volatility in markets and inflated asset prices – and we think that calls for a stock-specific approach.
Financialisation
Cheap money has caused rapid growth in a sector already supported by deregulation. 'Financialisation' investigates the implications of finance dominating economic activity, instead of serving it.
Consumer power
Technological advances are increasingly shifting the power to consumers in the marketplace. With the ability to compare prices and products independently now in the hands of the consumer, businesses must adapt to a changing commerce landscape, as their customers seek out better experiences, authenticity and value. Our 'consumer power' theme addresses these trends.
Investment team
Our Multi-Asset Diversified Return strategy is managed by an experienced team. Our global sector analysts and investment managers are located on a single floor in London, which helps to ensure that the investment process is flexible and opportunistic. Guided by our global investment themes, the team works together to identify opportunities and risks through research and debate.
26

years' average investment experience

16

years' average time at Newton
Paul Flood

Portfolio manager, global equity income

Bhavin Shah

Portfolio manager, multi-asset team

Freeman Le Page

Alternatives investment analyst and SRI client director

Oliver Larminie

Portfolio manager, charities and specialist institutions

Joo Hee Lee

Multi-Asset Solutions manager

Hilary Meades

Portfolio manager, multi-asset team

Simon Nichols

Portfolio manager, UK equities

Rob Stewart

Portfolio manager, multi-asset team

Tim Wilson

Portfolio manager, multi-asset team
Strategy profile
Objective

The strategy aims to deliver stable and risk-adjusted returns through fundamental and disciplined diversification. It provides a single-portfolio approach across equities, bonds and alternative assets

Performance benchmark

Aims to deliver a minimum return of cash (one-month sterling LIBOR) +3% per annum over 5 years before fees. However, a positive return is not guaranteed and a capital loss may occur.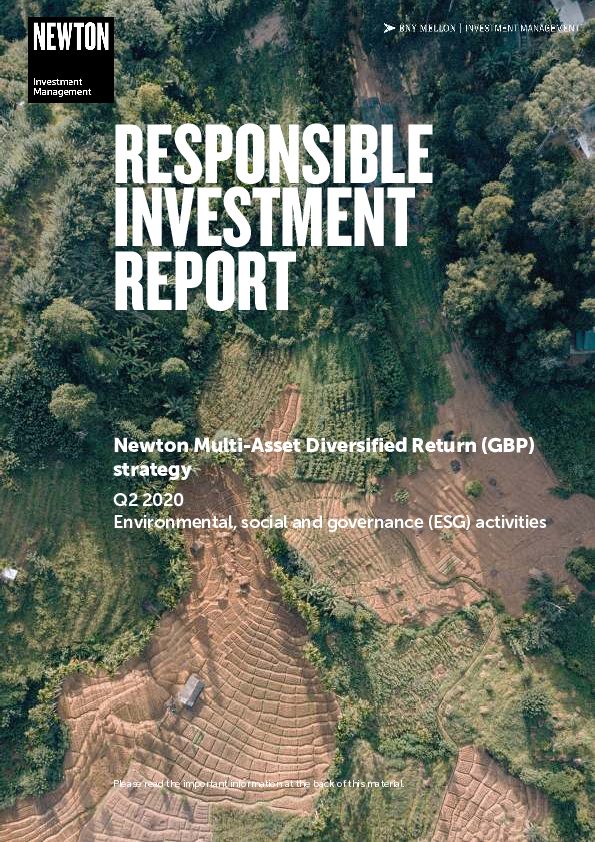 Responsible investment report
Stewardship activities (voting and engagement) for the last quarter and ESG metrics.
Your capital may be at risk. The value of investments and the income from them can fall as well as rise and investors may not get back the original amount invested.
Key investment risks
The performance aim is not a guarantee, may not be achieved and a capital loss may occur. Strategies which have a higher performance aim generally take more risk to achieve this and so have a greater potential for the returns to be significantly different than expected.
This strategy invests in global markets which means it is exposed to changes in currency rates which could affect the value of the strategy.
The strategy may use derivatives to generate returns as well as to reduce costs and/or the overall risk of the strategy. Using derivatives can involve a higher level of risk. A small movement in the price of an underlying investment may result in a disproportionately large movement in the price of the derivative investment.
Investments in bonds are affected by interest rates and inflation trends which may affect the value of the strategy.
The strategy holds bonds with a low credit rating that have a greater risk of default. These investments may affect the value of the strategy.
The strategy may invest in emerging markets. These markets have additional risks due to less developed market practices.
The strategy may invest in investments that are not traded regularly and are therefore subject to greater fluctuations in price.
The strategy may invest in small companies which may be riskier and less liquid (i.e. harder to sell) than large companies. This means that their share prices may have greater fluctuations.