Our philosophy and process
Sustainable 'red lines' ensure the poorest-performing companies are not eligible for investment, such as companies which violate the UN Global Compact Principles of sustainable corporate performance. Companies which we think are incompatible with the aim of limiting global warming to 2°C (3.6°F) are also excluded.
We engage with companies where ESG issues are resolvable and can be improved, and report on that activity. We will not invest in any company that derives more than 10% of its turnover from the production and sale of tobacco.
Every time we consider a security or look at an industry or country, it's in the context of what's happening across the world. We believe the investment landscape is shaped over the long term by some key trends, and we use a range of global investment themes to capture these.
Investment team
Our Sustainable US Equity strategy is managed by a team with a wide range of backgrounds and varied experience. Our global sector analysts and investment managers are located on a single floor in London, which helps to ensure that the investment process is flexible and opportunistic. Our dedicated responsible investment team is an integral part of the investment decision-making process. Guided by our global investment themes, the team works together to identify opportunities and risks through research and debate.
20

years' average investment experience

14

years' average time at Newton
Jeff Munroe

Investment leader, global equities

Yuko Takano

Portfolio manager, global equities

Charles French

Head of Equity Opportunities

Andrew Parry

Head of sustainable investment

Ian Burger

Head of responsible investment

Lloyd McAllister

Responsible investment analyst

Rebecca White

Responsible investment analyst

Paul Markham

Portfolio manager, global equities

Ben Smith

Portfolio manager, UK equities

Robert Marshall-Lee

Investment leader, emerging and Asian equities

Simon Nichols

Portfolio manager, UK equities

Sophia Whitbread

Portfolio manager, emerging and Asian equities
Strategy profile
Objective

To achieve capital growth by investing in well-run US businesses that both have durable financial and competitive positions and manage positively the material impacts of their operations and products on the environment and society

Comparative index

S&P 500

Performance aim

To outperform the comparative index over rolling five-year periods before fees

Typical number of equity holdings



30 to 50

Strategy size

US$0.9bn (as at June 30, 2020)

Strategy inception

May 1, 2017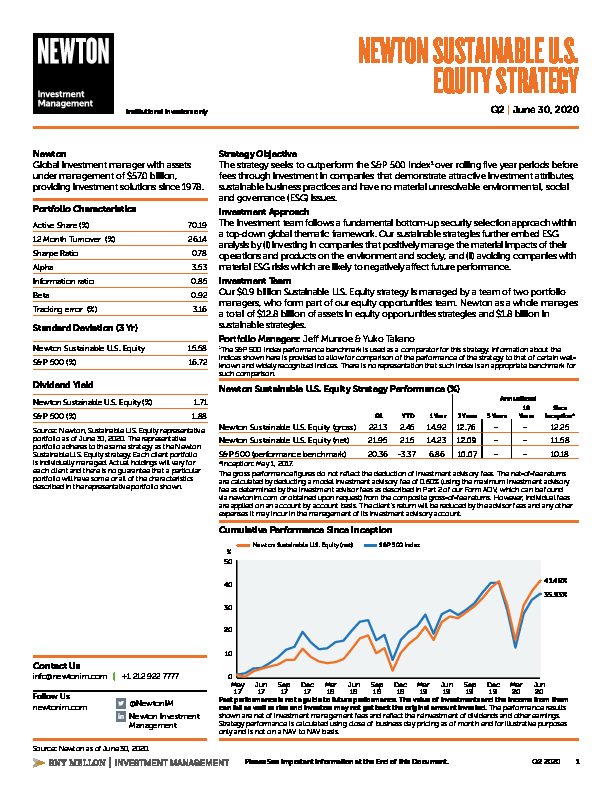 Quarterly factsheet
Facts on the strategy's performance and positioning.
---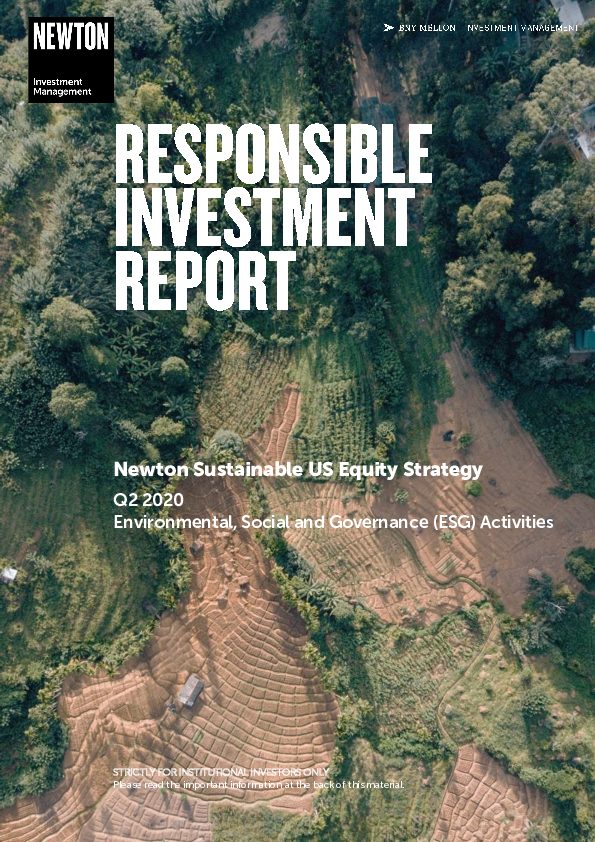 Responsible investment report
Stewardship activities (voting and engagement) for the last quarter and ESG metrics.
Your capital may be at risk. The value of investments and the income from them can fall as well as rise and investors may not get back the original amount invested.
Key investment risks
There is no guarantee that the strategy will achieve its objective.
A fall in the US market may have a significant impact on the value of the strategy because it primarily invests in this market.
The strategy may invest in international markets which means it is exposed to changes in currency rates which could affect the value of the strategy.
The strategy may invest in emerging markets. These markets have additional risks due to less developed market practices.
The strategy may use derivatives to generate returns as well as to reduce costs and/or the overall risk of the strategy. Using derivatives can involve a higher level of risk. A small movement in the price of an underlying investment may result in a disproportionately large movement in the price of the derivative investment.
The strategy follows a sustainable investment approach, which may cause it to perform differently to strategies that have a similar objective but which do not integrate sustainable investment criteria when selecting securities.