Our philosophy and process
The strategy seeks to invest in companies that are well governed and run for the benefit of all shareholders. It can also invest a proportion of assets in developed-market companies where business is driven by emerging-market operations.
ESG considerations are integrated throughout the research process and via proprietary quality reviews, to ensure that any material issues are captured.
The strategy has a long-term investment horizon. It focuses on balance-sheet strength and return-on-capital metrics.
Every time we consider a security or look at an industry or country, it's in the context of what's happening across the world. We believe the investment landscape is shaped over the long term by some key trends, and we use a range of global investment themes to capture these.
Investment team
Our Global Emerging Markets Equity strategy is managed by an experienced team. Our global sector analysts and investment managers are located on a single floor in London, which helps to ensure that the investment process is flexible and opportunistic. Guided by our global investment themes, the team works together to identify opportunities and risks through research and debate.
21

years' average investment experience

17

years' average time at Newton
Robert Marshall-Lee

Investment leader, emerging and Asian equities

Sophia Whitbread

Portfolio manager, emerging and Asian equities

Charles French

Head of Equity Opportunities

Paul Markham

Portfolio manager, global equities

Jeff Munroe

Investment leader, global equities

Simon Nichols

Portfolio manager, UK equities

Ben Smith

Portfolio manager, UK equities

Yuko Takano

Portfolio manager, global equities
Strategy profile
Objective

To achieve long-term capital growth through investing in emerging market securities.

Comparative index:

MSCI Emerging Market Index (NDR)

Performance aim:

To outperform the comparative index in excess of 3% p.a. over a rolling five year period

Typical number of equity holdings:

40 to 70

Strategy size:

A$2.5bn (as at 30 June 2020)

Strategy inception:

May 2011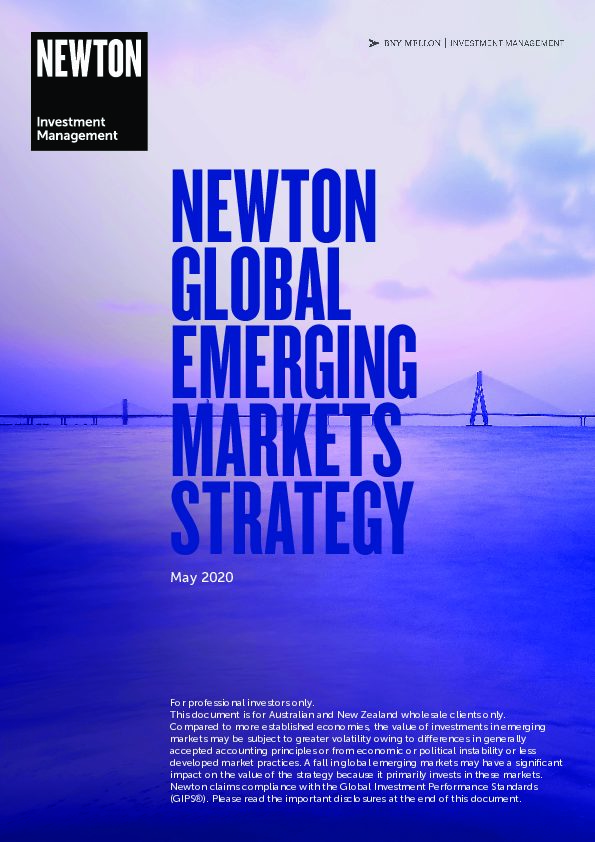 Brochure
More detail on the strategy's investment approach.
Your capital may be at risk. The value of investments and the income from them can fall as well as rise and investors may not get back the original amount invested.