Our philosophy and process
Detailed fundamental stock analysis is conducted by specialist analysts. A constantly evolving and forward-looking approach seeks to anticipate change, manage risk, and identify opportunities.
Material ESG risks, opportunities and issues are considered as part of the investment research process.
Every time we consider a security or look at an industry or country, it's in the context of what's happening across the world. We believe the investment landscape is shaped over the long term by some key trends, and we use a range of global investment themes to capture these.
Investment team
Our UK Equity Income strategy is managed by an experienced team. Our investment team of research analysts and portfolio managers works together across regions and sectors, helping to ensure that our investment process is highly flexible. Guided by our global investment themes, we seek to identify opportunities and risks through research and debate.
24

years' average investment experience

18

years' average time at Newton
David Cumming

Head of UK Equities

Tim Lucas

Portfolio manager, UK Equities team

Jon Bell

Portfolio manager, equity income team

Robert Hay

Portfolio manager, global equity income

Paul Flood

Head of mixed assets investment

Zoe Kan

Portfolio manager, emerging and Asian equity income

John C Bailer

Deputy head of equity income, portfolio manager

Brian Ferguson

Portfolio manager, equity income team

Peter D Goslin

Portfolio manager, equity income team

Keith Howell Jr.

Portfolio manager, equity income team

Adam Logan

Portfolio manager, equity income team

James A Lydotes

Deputy chief investment officer, equity
Strategy profile
Objective

The strategy seeks to outperform the FTSE All-Share index by more than 2% per annum over rolling 5-year periods, by achieving income and capital growth from a portfolio comprised predominantly of UK securities. The strategy is designed to yield at least 110% of the FTSE All-Share Index yield over a rolling 3-year period.

Performance benchmark

FTSE All-Share

Typical number of equity holdings


40 to 60

Strategy size

£1.1bn (as at 30 June 2022)

Strategy inception

Composite inception: 1 January 1996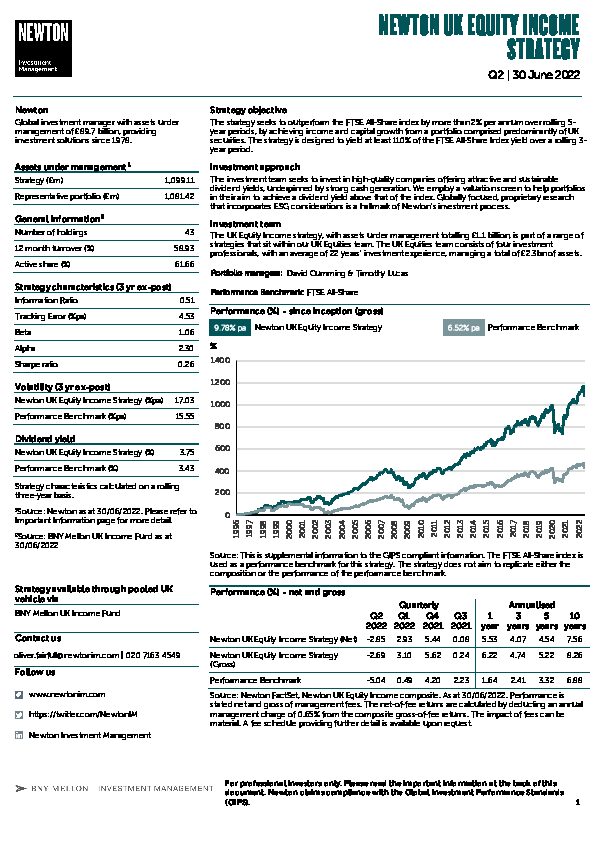 Strategy factsheet
Performance and commentary for the last quarter.
---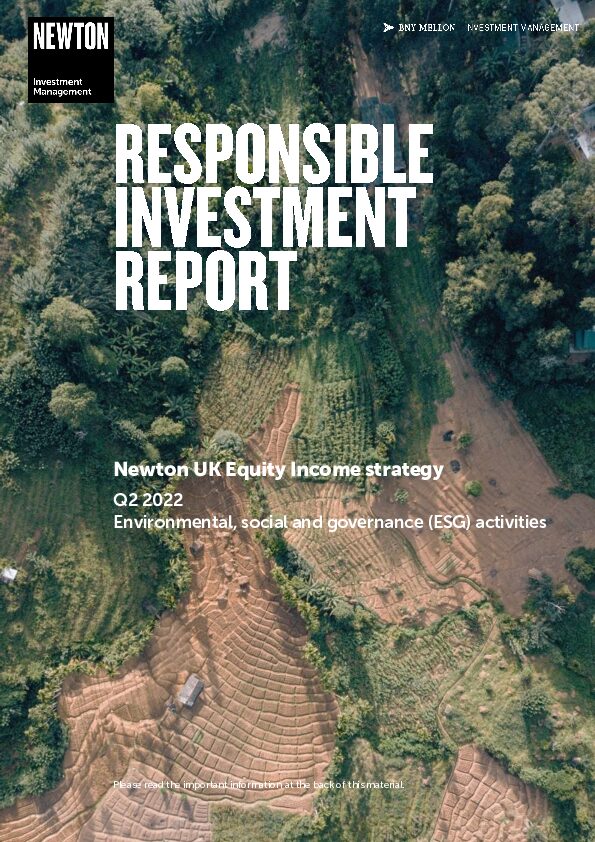 Responsible investment report
Stewardship activities (voting and engagement) for the last quarter and ESG metrics.
Your capital may be at risk. The value of investments and the income from them can fall as well as rise and investors may not get back the original amount invested.
Newton will make investment decisions that are not based solely on ESG considerations. Other attributes of an investment may outweigh ESG considerations when making investment decisions. The way that ESG considerations are assessed may vary depending on the asset class and strategy involved. The research team performs ESG Quality Reviews on equity securities prior to their addition to Newton's Research Recommended List (RRL). ESG Quality Reviews are not performed for all fixed income securities. The portfolio managers may purchase equity securities that are not included on the RRL and which do not have ESG Quality Reviews. Not all securities held by Newton's strategies have an ESG Quality Review completed prior to investment, although since 2020 it has been a requirement for all (single name) equity securities to have an ESG Quality Review before they are purchased for the first time.