Our philosophy and process
The strategy is conviction-based with no sector constraints and few country constraints; the portfolio may invest in any country except the U.S. and has the scope to invest in emerging markets. A constantly evolving and forward-looking approach seeks to anticipate change, manage risk, and identify opportunities
ESG considerations are integrated throughout the research process and via proprietary quality reviews, to ensure that any material issues are captured.
State intervention
Authorities have engaged in ever-greater policy intervention and regulation to shore up economic growth. We believe 'state intervention' has increased misallocation of capital, caused volatility in markets and inflated asset prices – and we think that calls for a stock-specific approach.
Financialization
Cheap money has caused rapid growth in a sector already supported by deregulation. 'Financialization' investigates the implications of finance dominating economic activity, instead of serving it.
Net effects
The world has made the transition from connecting places to connecting people to connecting devices. The rapid rise in the 'internet of things' is transforming lifestyles and business. This creates winners and losers – our 'net effects' theme seeks to identify them.
Healthy demand
The industry for health-care products and services is growing rapidly. Ageing populations are fuelling demand in developed economies, and increasing incomes and changing lifestyles are creating new markets in emerging economies. 'Healthy demand' looks at the opportunities and the risks.
Investment team
Our International Equity strategy is managed by a team with a wide range of backgrounds and varied experience. Our global sector analysts and investment managers are located on a single floor in London, which helps to ensure that the investment process is flexible and opportunistic. Guided by our global investment themes, the team works together to identify opportunities and risks through research and debate.
21

years' average investment experience

17

years' average time at Newton
Paul Markham

Portfolio manager, global equities

Jeff Munroe

Investment leader, global equities

Charles French

Head of Equity Opportunities

Ben Smith

Portfolio manager, UK equities

Yuko Takano

Portfolio manager, global equities

Robert Marshall-Lee

Investment leader, emerging and Asian equities

Simon Nichols

Portfolio manager, UK equities

Sophia Whitbread

Portfolio manager, emerging and Asian equities
Strategy profile
Objective

To achieve long-term capital growth from investing in global equities, excluding U.S. securities

Comparative index

MSCI EAFE (NDR)

Performance aim

To outperform the comparative index by over 2% per annum

Typical number of equity holdings



55 to 80

Strategy size

US$1.5bn (as at June 30, 2020)

Strategy inception

Composite inception: November 1, 1997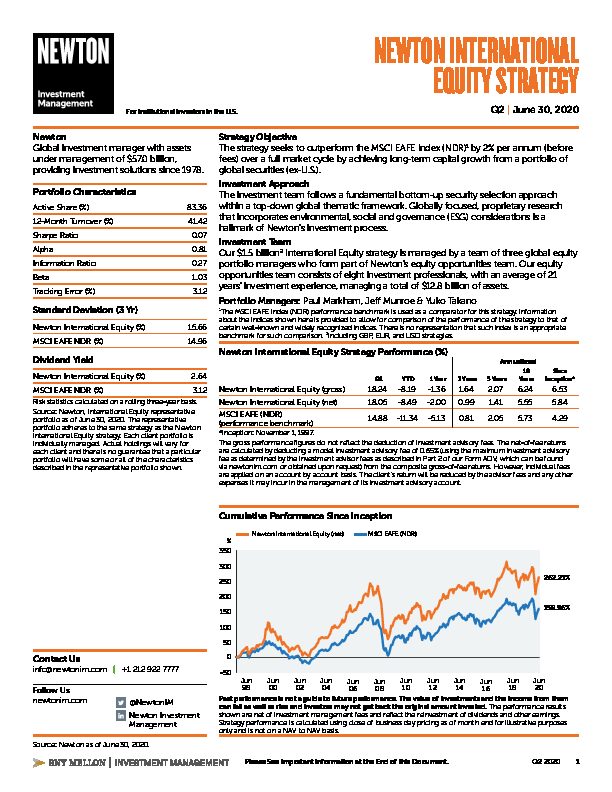 Quarterly factsheet
Facts on the strategy's performance and positioning.
---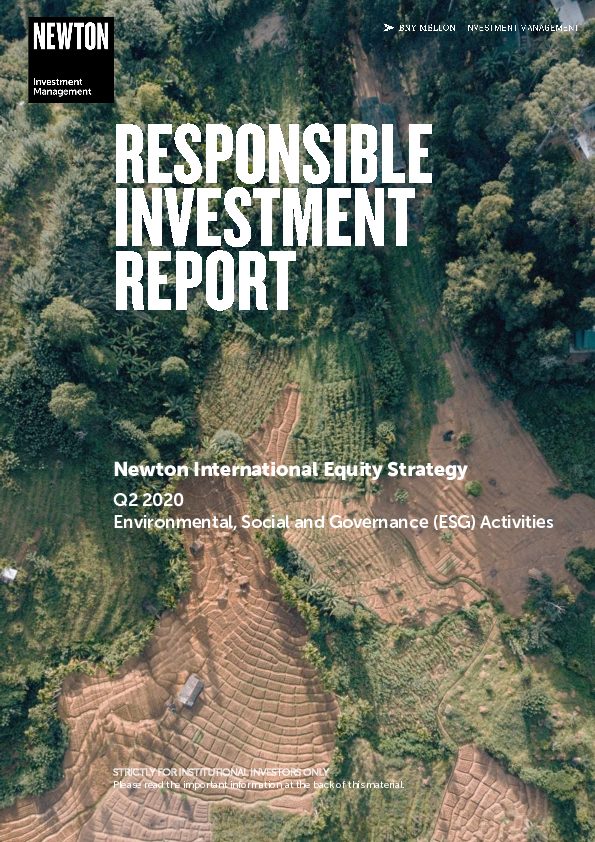 Responsible investment report
Stewardship activities (voting and engagement) for the last quarter and ESG metrics.
Your capital may be at risk. The value of investments and the income from them can fall as well as rise and investors may not get back the original amount invested.