Our philosophy and process
The strategy aims to deliver sustainable income by investing opportunistically in a broad universe of bonds – principally government bonds, emerging-market sovereigns, high-yield bonds and investment-grade corporate debt. The strategy will seek to take advantage of the changing economic cycle by altering the weightings of these broad fixed-income asset classes while always maintaining some exposure to higher-yielding assets in pursuit of its income objective.
A constantly evolving and forward-looking approach seeks to anticipate change, manage risk, and identify opportunities. Material ESG risks, opportunities and issues are considered as part of the investment research process.

Every time we consider a security or look at an industry or country, it's in the context of what's happening across the world. We believe the investment landscape is shaped over the long term by some key trends, and we use a range of global investment themes to capture these.
Investment team
Our Global Dynamic Bond Income strategy is managed by a focused, experienced fixed-income team. Our investment team of research analysts and portfolio managers works together across regions and sectors, helping to ensure that our investment process is highly flexible. Guided by our global investment themes, we seek to identify opportunities and risks through research and debate.
21

years' average investment experience

14

years' average time at Newton
Paul Brain

Investment leader, fixed income

Howard Cunningham

Portfolio manager, fixed income

Parmeshwar Chadha

Portfolio manager, fixed income

Jon Day

Portfolio manager, fixed income

Carl Shepherd

Portfolio manager, fixed income

Trevor Holder

Portfolio manager, fixed income

Scott Freedman

Analyst and portfolio manager, fixed income

Martin Chambers

Credit analyst, fixed income

Ashwin Palta

Credit research analyst, fixed income

Jeevan Dhoot

Credit analyst, fixed income
Strategy profile
Objective

The strategy seeks to deliver income from a globally diversified portfolio comprised of multiple fixed-income asset classes.

Strategy inception

Composite inception: 1 June 2016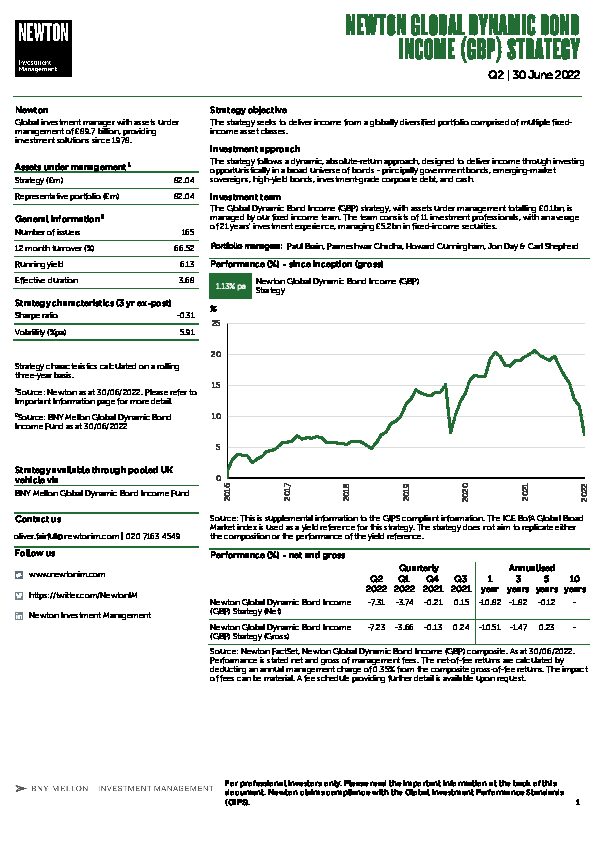 Strategy factsheet
Performance and commentary for the last quarter.
Your capital may be at risk. The value of investments and the income from them can fall as well as rise and investors may not get back the original amount invested.
Newton will make investment decisions that are not based solely on ESG considerations. Other attributes of an investment may outweigh ESG considerations when making investment decisions. The way that ESG considerations are assessed may vary depending on the asset class and strategy involved. The research team performs ESG Quality Reviews on equity securities prior to their addition to Newton's Research Recommended List (RRL). ESG Quality Reviews are not performed for all fixed income securities. The portfolio managers may purchase equity securities that are not included on the RRL and which do not have ESG Quality Reviews. Not all securities held by Newton's strategies have an ESG Quality Review completed prior to investment, although since 2020 it has been a requirement for all (single name) equity securities to have an ESG Quality Review before they are purchased for the first time.