In my last post on the beauty industry, I outlined the continuing tussle between bricks-and-mortar retailers and their online counterparts in a battle for their share of consumers' spending. However, digital isn't just transforming how people buy; it is also influencing what they buy.
Make-up on the up
Over the last few years, make-up has overtaken skincare to become the fastest-growing category in the sector, bucking the trend of the previous decade (see chart below).
Year-on-year sales growth of make-up and skincare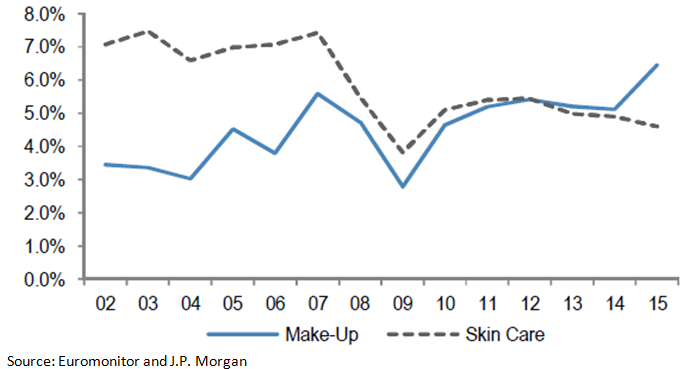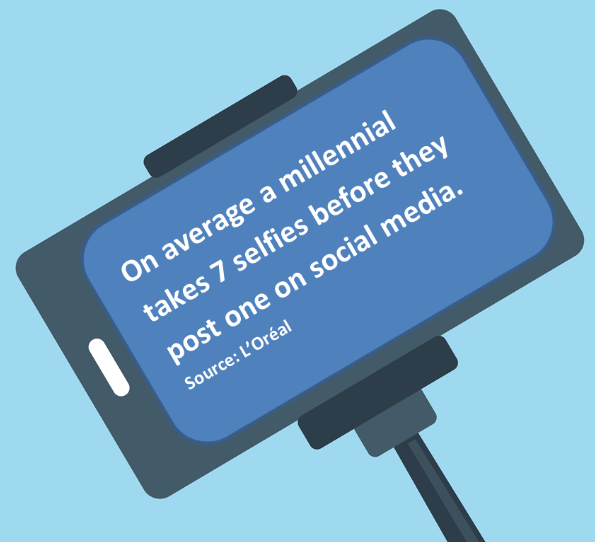 Many have cited the 'selfie generation' as the primary driver behind this, and it's not a far-fetched assumption: one survey has shown that millennials take as many as seven selfies before finding the perfect one to post on their social media accounts, and that 33% of women re-do their make-up between taking selfies.[1] The increasing number of beauty tutorials appearing online attests similarly to the trend of make-up as a recreational activity, something people experiment with for fun. Retailers have also noticed an increase in sales of make-up wipes as a result of people trying out new looks in quick succession.
Independents' day
Smaller, independent brands have also benefited from the increased penetration of e-commerce. While previously the only route to the customer would be via a bricks-and-mortar retailer, now even the smallest independent manufacturer can sell its products through an online platform. The consequences of this are starting to show. As the chart below demonstrates, local and regional brands are gaining market share as the top 15 brands lose traction.
Market share of top 15 brands versus local and regional (L&R) brands

This is something Amazon in particular has been fostering, taking advantage of the younger consumer's preference for more niche and 'authentic' independent brands. While Amazon was ranked as the preferred destination for beauty and personal care products by US online shoppers,[2] for now it seems the prestige segment of the market is safe. Amazon's beauty consumers are shopping at fairly low price points: 80% of Amazon's top products cost less than $20; compare that to US retailer Sephora, just 8% of whose products are below that price cap.[3]
Personalisation
Consumers today, the millennial generation in particular, demand a more personalised shopping experience from retailers, and this is no less true in the world of beauty. This hyper-personalisation is all about helping customers – empowering them with the information to make decisions about what will suit their requirements best, rather than bombarding them with a seemingly endless list of options.
Brands are investing in digital innovations to meet this demand for personal solutions. Take for example the 'try-on technology' apps which enable consumers to virtually experiment with hundreds of new looks in just minutes via the camera on their device. You can change your expression, talk and move around, and the make-up moves with you just as if you're wearing it.
Even more advanced than this, one technology firm has developed a 'smart mirror' which analyses your face and creates 3D-printed make-up sheets, with the aim of perfectly masking imperfections.
It seems that, while the beauty industry has changed hugely in the last few years, its makeover is far from complete.
[1] L'Oréal
[2] A.T. Kerney survey of online shoppers, May 2014
[3] L2 Inc., October 2016
Any reference to a specific security, country or sector should not be construed as a recommendation to buy or sell investments in those countries or sectors. Please note that holdings and positioning are subject to change without notice.