Our philosophy and process
Newton manages both the equity segment of the portfolio and overall asset allocation. The equity segment uses an actively managed ESG methodology which has evolved at Newton over the last 40 years. All investment decisions are predicated on two key factors: an investment's eligibility based on how effectively sustainability is incorporated into its core business and strategy, and the requirement for upside potential and/or risk mitigation.

Security selection is guided by our investment themes, which help us formulate our views about long-term trends across the investment landscape. The portfolio managers draw on the output of our global research team (including the responsible investment team embedded within it), and conduct their own research to ensure that the portfolio is composed of stocks in which we have strongest conviction of the asymmetry of risk and reward and the level of ESG execution or likelihood of ESG improvement within a company.

We achieve diversification through having around 150 stocks with exposure to a variety of regions and industries, while we carefully consider a wide range of portfolio risks using modeling and optimization tools.

'Red lines' ensure that the companies in which we choose to invest do not violate the UN Global Compact's ten principles that promote responsible corporate citizenship, or have characteristics which make them incompatible with the aim of limiting global warming to 2°C (3.6°F). We also incorporate a tobacco exclusion as we do not view tobacco businesses as compatible with our commitment to sustainable investment.

We engage with companies where ESG issues are resolvable and can be improved. We provide regular reports for investors to view the impacts of engagement, and to show statistics such as the portfolio's ESG rating and carbon footprint.

The fixed-income segment of the portfolio uses Mellon Investment Corporation's (Mellon) cost-effective and efficient index investment approach, with reference to the Bloomberg Barclays MSCI US Aggregate ESG Weighted Sector Neutral Index, a custom ESG index which is based on the Barclays US Aggregate Index. Mellon uses a stratified sampling approach to select bonds that match the important risk characteristics of the index (such as duration, liquidity, quality, sector, industry, yield and market beta). The index screens out investments in weapons, alcohol, gambling, tobacco, nuclear power, and the worst ESG-rated companies.
Investment team
Newton's investment team has a wide range of backgrounds and varied experience. Our global sector analysts and investment managers are located on a single floor in London, which helps to ensure that the investment process is flexible and opportunistic. Our dedicated responsible investment team is an integral part of the investment decision-making process. Guided by our global investment themes, the team works together to identify opportunities and risks through research and debate.

Mellon has a team of seasoned portfolio managers with decades of experience managing tightly tracking, risk-controlled index and beta portfolios across a myriad of market environments. The team as a whole has decades of experience managing index portfolios benchmarked to the Bloomberg Barclays US Aggregate and component indices.
24

years' average investment experience

13

years' average time at Newton
Oliver Larminie

Portfolio manager, charities and specialist institutions

Joo Hee Lee

Multi-Asset Solutions manager

Freeman Le Page

Alternatives investment analyst and SRI client director

Hilary Meades

Portfolio manager, multi-asset team

Simon Nichols

Portfolio manager, UK equities

Andrew Parry

Head of sustainable investment

Ian Burger

Head of responsible investment

Lloyd McAllister

Responsible investment analyst

Rebecca White

Responsible investment analyst

Bhavin Shah

Portfolio manager, multi-asset team

Rob Stewart

Portfolio manager, multi-asset team

Yuko Takano

Portfolio manager, global equities

Tim Wilson

Portfolio manager, multi-asset team
Strategy profile
Objective

The strategy looks to generate capital appreciation by investing in equity securities and debt/fixed-income securities of global companies that demonstrate attractive investment attributes and sustainable business practices.

Comparative index

Composite index comprised of 60% MSCI All Country World Index (NDR) and 40% Bloomberg Barclays MSCI US Aggregate ESG-Weighted Select Sector Neutral Index.

Typical number of holdings


Around 150 equities and 100 debt/fixed-income securities.



Strategy size

Below US$350m (as at June 30, 2020)

Strategy inception

April 1, 2019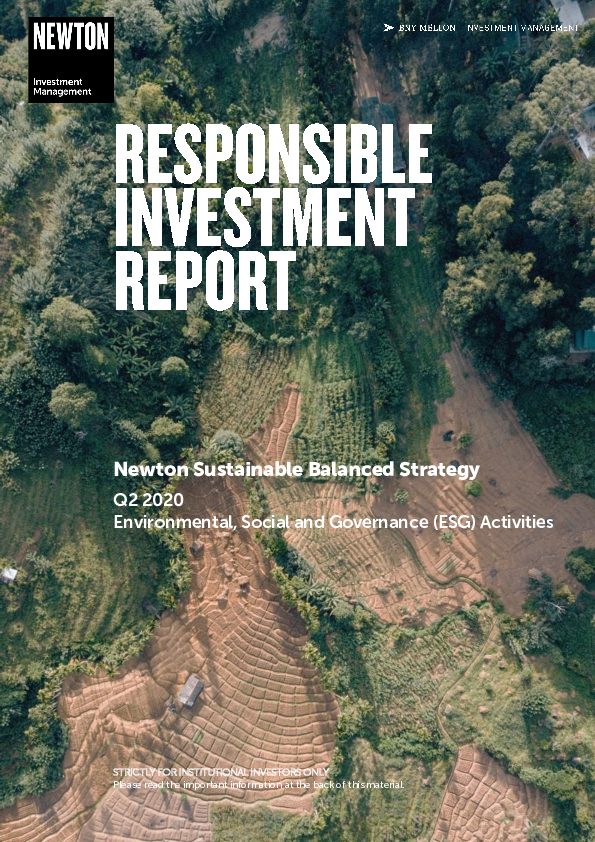 Responsible investment report
Stewardship activities (voting and engagement) for the last quarter and ESG metrics.
Your capital may be at risk. The value of investments and the income from them can fall as well as rise and investors may not get back the original amount invested.