At the start of 2017, with a number of political risks on the horizon, we were fairly cautious on the outlook for Europe, and skeptical about the area's ability to catch up with the U.S. in terms of growth.
However, with the rise of the far right quashed for the time being, most notably following elections in France and the Netherlands, political uncertainty appears to have lifted and Europe has defied the expectations of many investors.
Eurozone GDP Growth – How Strong Has it Been? What is Driving it?
Eurozone GDP growth, at 2.3% year on year, has now caught up with the U.S. (see chart 1). While commentators often focus on the contribution of exports to this growth (representing around 0.5-0.7%),[1] chart 2 shows that a return to strength in private consumption and fixed capital formation[2] has also made a notable contribution to this recovery.
Although euro appreciation is likely to prove a slight headwind, we expect exports to continue to grow if the global growth backdrop (in our view a more influential factor) remains supportive.
Chart 1: GDP Growth, Euro Area vs. U.S. (Per Person, Year on Year %)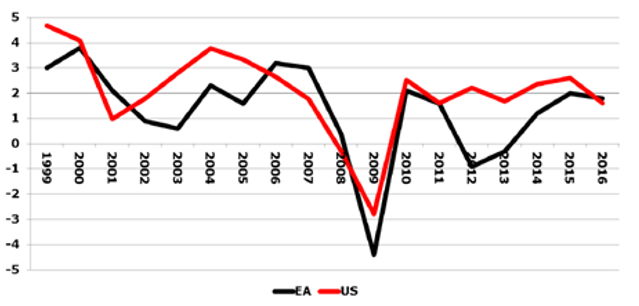 Source: IMF, EUROSTAT, 2017
Chart 2: Euro Area Real GDP and its Components (Quarter-on-Quarter Percentage Changes and Quarter-on-Quarter Percentage Point Contributions)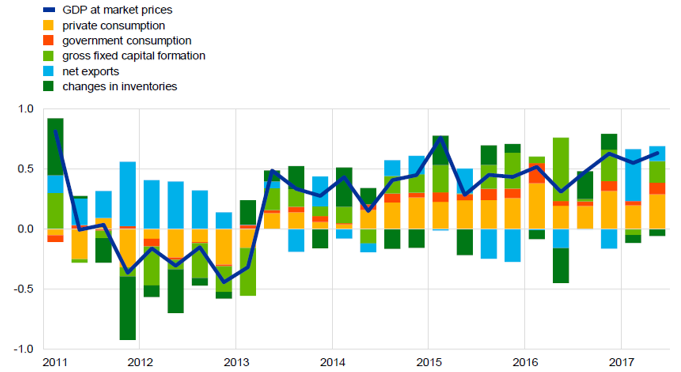 Source: Eurostat, July 2017
Notes: The latest observations are for the second quarter of 2017
Europe has been a standout performer since the start of the year – albeit starting from a low valuation standpoint – with the FTSE World Europe ex-UK index posting a return of 19.1% since the start of 2017 versus a return of 12.6% for the MSCI All-World in sterling terms.[3] If it can sustain this momentum, and with valuations still low in our opinion, we think the region should continue to post good relative performance compared with the rest of the world.
There are a number of factors which we see as vital to sustaining this, including strong global growth, continued accommodative policy by the European Central Bank (ECB) to keep debt costs down, and a lack of political or terrorism-related shocks. However, in this post, I'd like to explore the impact that reforms could have on European growth. To do this, I'll use three countries as case studies – one which has successfully used reform to achieve growth (Germany), one which is still going through that process (Italy), and another which is embarking on a new set of reforms (France).
Reforms – How Effective Are They?
Five years after the ECB defused the euro crisis in the summer of 2012, the painful programs of austerity have largely been completed, although France, Belgium, Austria and Finland are lagging behind the required deficit-to-GDP ratio of 3%.
Reform is typically a painful process in the short term, and is therefore unpopular in politics except during a crisis; despite experiencing structural issues for decades, European politicians and central bankers lacked the mandate to enact serious change, but it was the euro crisis of 2012 which provided this impetus and offered governments a unique opportunity.
As such, in today's relatively stronger environment, this may explain why the pace of reform has slowed. However, while the speed with which these reforms are taking place has tailed off, we still expect the benefits will continue to come through.
With economic recovery in Europe occurring at a different pace between countries, as our 'divergence' investment theme highlights, we expect to see further variation in the progress of reform. We believe political differences are accentuating this, with countries where populism is a strong force under more pressure to enact reform.
So far, adjustments in the peripheral countries appear to be paying off: unemployment is falling (especially youth unemployment), core employment (those who earn more than €500 a month) is now actually higher than it was before the crisis, and unit labor costs have fallen and stabilized.
Chart 3: Number of Unemployed in Spain, Ireland, Greece and Portugal (millions)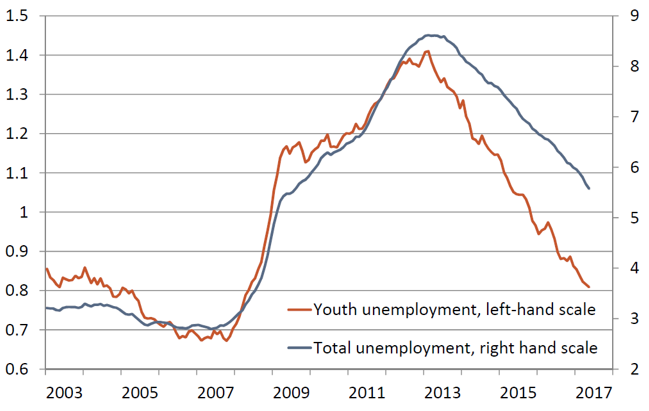 Source: Eurostat, 2017
Case Study 1: Germany
We believe Germany offers a good example of how just small changes at the margins can make a big difference.
Following reunification in 1990, Germany continued to suffer from weak growth and rising unemployment which peaked at 11% following the recession of 2003.
However, in less than a decade, the country transformed itself from the sick man of Europe to economic superstar. The Hartz reforms of 2003-2005, also known as Agenda 2010, were central to this. These reforms led to the decentralization of the wage-setting process from the industry level (unions) to the firm level, bringing about a rise in employment (chart 4) and ultimately an increase in the competitiveness of Germany's exports.
Chart 4: German Core Employment (millions)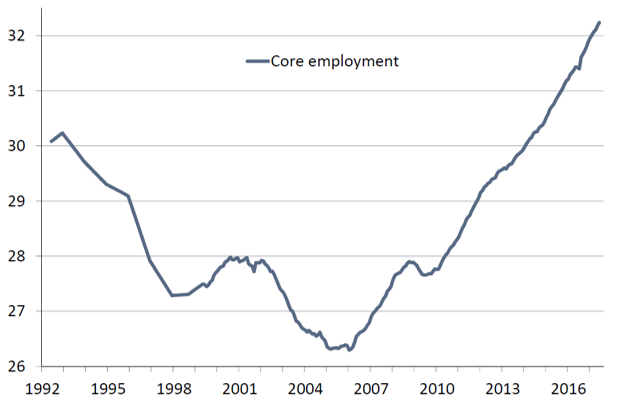 Source: Bundesagentur für Arbeit, Bundesbank, 2017
Core employment is measured as those who are subject to social security contributions.
There are a few caveats to this. First, the export-led recovery in Germany coincided with an acceleration in growth in China and other emerging markets, creating demand for German products. Further, the most effective reforms usually happen under pressure – in Germany's case reforms accelerated as a result of the 2003 recession.
Case Study 2: Italy
We are also starting to see some effects coming through from reform in Italy. Since the euro crisis of 2012, Italian governments have made a series of broad changes including:
Lifting the retirement age and broadening contribution-based benefits to reduce projected public expenditure
The deregulation of product and services markets. For example, lifting the ban on foreign ownership of insurance businesses
Revising dismissal rules in employment contracts to allow faster and more convenient arbitration.
In combination with improved global economic growth, we have seen a consequent recovery in employment in Italy (chart 5).
Chart 5: Italy Employment (Thousands)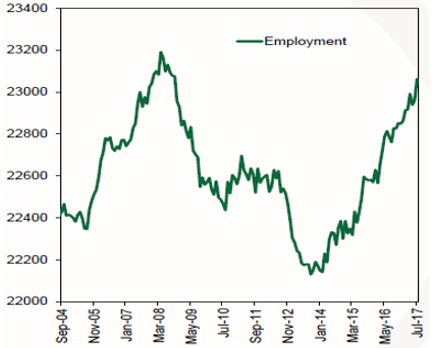 Source: ISTAT, 2017
There have also been reforms aplenty in the banking system, in particular focused on non-performing loans and insolvency procedures, leading to the compulsory liquidation of the failed Veneto regional banks and the recapitalization of Banca Monte dei Paschi di Siena. The government has also introduced the guarantee on securitization of bank non-performing loans (GACS), used to facilitate the removal of non-performing loans from the books of commercial banks.
These reforms have all helped to lower funding costs for the banking system and stabilize the number of non-performing loans as a percentage of total bank loans. Furthermore, we calculate that non-performing loans have fallen from 5% in 2012 to under 2% today, and the country has seen a notable improvement in economic sentiment (chart 6).
Chart 6: Economic Sentiment in Italy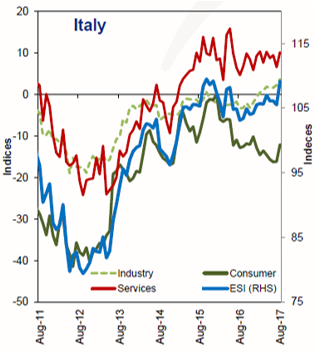 Source: European Commission, 2017
ESI: economic survey indicators
Case Study 3: France
President Macron is in a unique position to enact change, having been elected on a mandate for deep reforms, including:
An overhaul of the welfare system, for example offering unemployment benefits for all (entrepreneurs included)
Creating a more flexible labor market, removing much of the legal uncertainty around firing, including placing a cap on the damages which can be awarded to workers for unfair dismissal
Cutting government spending by up to 3% of GDP by reducing jobs in the public sector by c. 2% and cutting wage overheads by 6%.
Meanwhile, he also intends to reduce corporate tax to 25% and start a large infrastructure program, spending c. 2.2% of GDP.[4]
These grand plans have not been met with enthusiasm by all, with thousands of protestors taking to the streets, and unions organizing strikes across France. August saw Macron's approval rating fall further and faster than any other French president in history, plunging from 62% following his election victory in May to around 40%.[5]
There are further warning signs that France's newly elected golden boy may not deliver all that he promised on the campaign trail. Despite pledging a fresh approach to government, we have seen many of France's old habits repeated yet again: traditional bureaucrats elected to high-level positions within the organization, the continuation of protectionist tendencies, and the use of public money in private corporations.
Nevertheless, while we believe the market is overly focused on the limited progress Macron can achieve over the next 12 months, we do think that the president's agenda shows promise, and see potential for France to surprise investors over a longer time horizon. Pushing through a radical reform agenda is likely to be a slow process, and as such we prefer to take a longer-term perspective.
To conclude, we are broadly optimistic about the prospect for Europe's reform agenda to influence growth positively. However, this comes with one caveat: for countries such as Italy and France to emulate the success of Germany, we see healthy growth on a global scale as vital.
[1] HSBC, October 2017.
[2] Investment in physical assets such as machinery, land or buildings.
[3] Source: Bloomberg, as at 1 November 2017
[4] Charles Wyplosz, Graduate Institute.
[5] http://www.telegraph.co.uk/news/2017/08/27/majority-people-france-now-dissatisfied-macron/
This is a financial promotion. Material in this publication is for general information only. The opinions expressed in this document are those of Newton and should not be construed as investment advice or recommendations for any purchase or sale of any specific security or commodity. Certain information contained herein is based on outside sources believed to be reliable, but its accuracy is not guaranteed. You should consult your advisor to determine whether any particular investment strategy is appropriate. This material is for institutional investors only. Any reference to a specific security, country or sector should not be construed as a recommendation to buy or sell this security, country or sector. Please note that strategy holdings and positioning are subject to change without notice.
US - NIM
This is a financial promotion. Issued by Newton Investment Management Limited, The Bank of New York Mellon Centre, 160 Queen Victoria Street, London, EC4V 4LA. Newton Investment Management Limited is authorized and regulated by the Financial Conduct Authority, 12 Endeavour Square, London, E20 1JN and is a subsidiary of The Bank of New York Mellon Corporation. 'Newton' and/or 'Newton Investment Management' brand refers to Newton Investment Management Limited. Newton is registered in England No. 01371973. VAT registration number GB: 577 7181 95. Newton is registered with the SEC as an investment adviser under the Investment Advisers Act of 1940. Newton's investment business is described in Form ADV, Part 1 and 2, which can be obtained from the SEC.gov website or obtained upon request. Material in this publication is for general information only. The opinions expressed in this document are those of Newton and should not be construed as investment advice or recommendations for any purchase or sale of any specific security or commodity. Certain information contained herein is based on outside sources believed to be reliable, but its accuracy is not guaranteed. You should consult your advisor to determine whether any particular investment strategy is appropriate. This material is for institutional investors only.
Personnel of certain of our BNY Mellon affiliates may act as: (i) registered representatives of BNY Mellon Securities Corporation (in its capacity as a registered broker-dealer) to offer securities, (ii) officers of the Bank of New York Mellon (a New York chartered bank) to offer bank-maintained collective investment funds, and (iii) Associated Persons of BNY Mellon Securities Corporation (in its capacity as a registered investment adviser) to offer separately managed accounts managed by BNY Mellon Investment Management firms, including Newton and (iv) representatives of Newton Americas, a Division of BNY Mellon Securities Corporation, U.S. Distributor of Newton Investment Management Limited.
Unless you are notified to the contrary, the products and services mentioned are not insured by the FDIC (or by any governmental entity) and are not guaranteed by or obligations of The Bank of New York or any of its affiliates. The Bank of New York assumes no responsibility for the accuracy or completeness of the above data and disclaims all expressed or implied warranties in connection therewith. © 2020 The Bank of New York Company, Inc. All rights reserved.