Last week, the Japanese Emperor Akihito made a rare televised speech where he talked at length about his position as a 'state symbol' under the current constitution, and the various duties that come with it. He also cited his age and challenging health conditions, and showed a willingness to abdicate from the throne if necessary, to cause as little turmoil as possible for the Japanese people.
While at first glance this may seem like casual musings of an ageing and burnt-out man who, like the queen of England, has dedicated his entire life to the duties that were handed to him at birth, this is certainly not the case, as he understands better than anyone the impact his words have on the Japanese people. The emperor is not one to frequently disclose his opinion to the public, so to do so in a televised event suggests that there is some deeper meaning behind his words.
Dropping hints
In his 10-minute speech, the emperor used the word 'state symbol' nine times, and discussed how this role, which has been defined under the country's pacifist constitution, has been crucial to the well-being of the Japanese people.[1] Some journalists have suggested this could be an indirect swipe against Prime Minister Abe and his Liberal Democratic Party (LDP), who are working on making substantial amendments to the current constitution. If you read through the LDP's draft proposal, it elevates the emperor's role from 'state symbol' to 'head of state', a backwards move which would return the emperor to the more powerful position he held before World War II.[2] It also abolishes Article 9, which outlaws war as a means to settle international disputes. This Article was established as a direct if imperfect solution to the perilous situation during World War II, when the emperor was revered as a demi-god, and the cult-like following of the military led to the death of millions.
In great contrast, Emperor Akihito has shown on countless occasions how it was his duty to remain a symbol of state, and encourage Japan to pursue non-violent, peaceful solutions.
The arrows of Abenomics
All of this is interesting in the context of where Abe and his economic policies (Abenomics) are right now. While Japan had enjoyed a temporary recovery in the economy and a massive re-rating of the stock market in the three years since Abenomics started (2012-2015), this has all but diminished in 2016, given various factors such as weak CPI figures, stagnant wages and increasing social costs from an ageing population.
The original Abenomics mandate was to work on the 'third arrow' of structural reform, while the first (monetary stimulus) and second (fiscal stimulus) arrows were intended to boost the economy in the short term. So far, the only meaningful impact we have seen is from monetary stimulus, and that has also stumbled this year due to the Bank of Japan's excessive negative interest-rate policy. Corporate earnings have also been hit significantly as a result of the yen strengthening by 20%.
As for structural reform, there has been some commendable progress in corporate governance, but some of Abe's key milestones such as labour reform and deregulation are far from being achieved. In addition to economic woes, civil liberties are also facing some pressures, with the country having plummeted in the Reporters Without Borders' Press Freedom Index from a commendable 11th in 2010 to a more woeful 72nd in 2016.[3]
While Abe has recently won a landslide Upper House election which gives him the required seats to push a proposal for constitutional reform through the Diet (assembly), citizens will be watching him closely to see where his priorities lie. Constitutional change would ultimately be decided on by a referendum, and current polls suggest that only 27% of the population would actively support changing the constitution (see infographic below). So it is unlikely, even if Abe attempts change, that it will go through.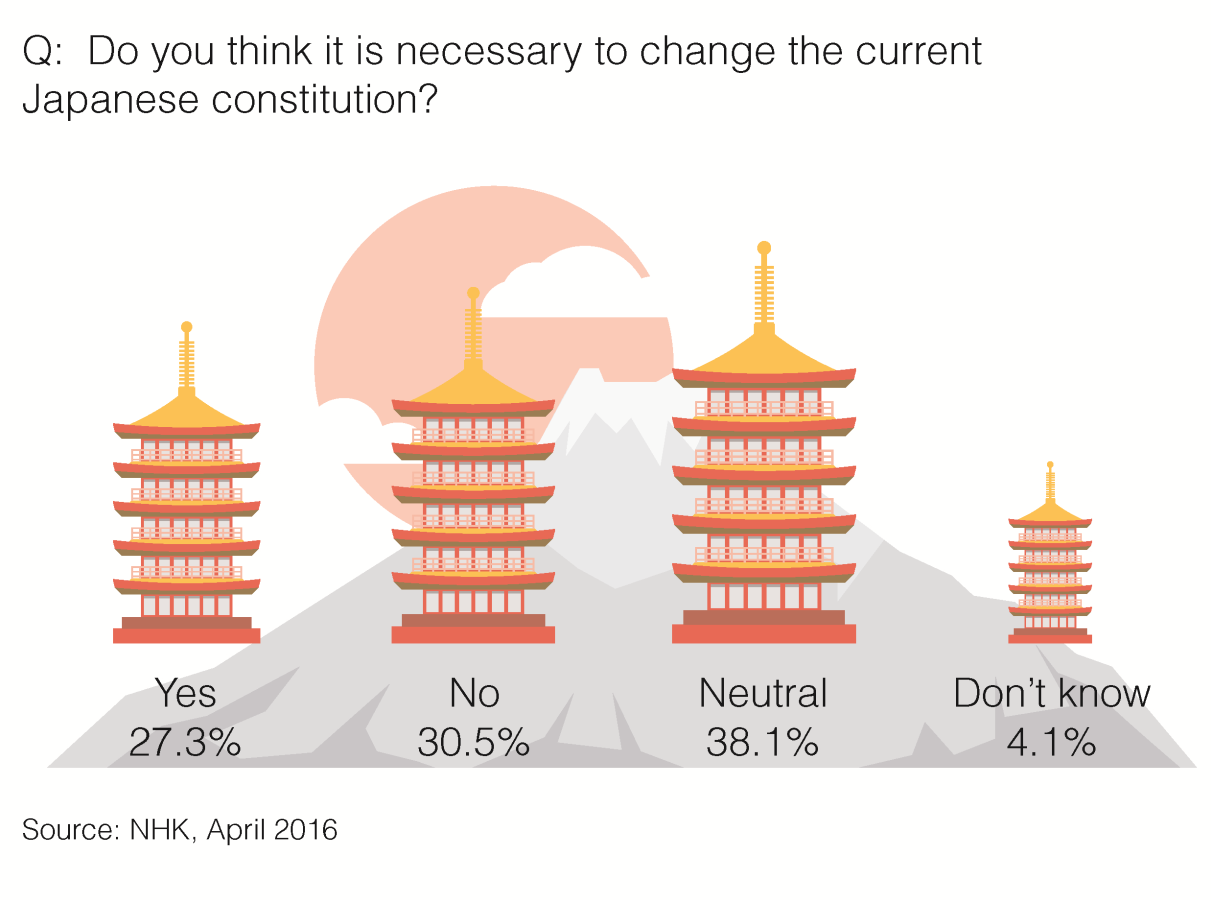 It would be prudent for him to refocus on achieving the economic reform that he set out to do rather than focus on a constitutional reform that 70% of the voter base is not interested in. The emperor's subtle suggestion that the country should maintain the status quo on the constitution only makes the people of Japan more aware of the implications.
[1] You can read the full transcript of Emperor Akihito's televised address here: http://www.nytimes.com/2016/08/09/world/asia/transcript-japan-emperor-akihito-speech.html?_r=0
[2] For those who like to read their sources in the original, the full draft proposal is available here: http://constitution.jimin.jp/draft/, and for those who would prefer an English version, a translation can be found here: http://www.voyce-jpn.com/#!ldp-draft-constitution/px2wu
[3] Source: https://rsf.org/en/ranking
Any reference to a specific security, country or sector should not be construed as a recommendation to buy or sell this security, country or sector. Photo credit: Cedric Weber / Shutterstock.com