A week is a long time in politics and in the gilt market.
The initial reaction in markets to a hung parliament was for shorter-dated bond yields to fall and longer-dated yields to rise (equating therefore to a steepening of the curve), such that the gap between 10-year and 50-year gilt yields increased from 0.51% to 0.57% (the green dotted line in the chart below). This seemed to be a rational reaction to increased uncertainty (pulling shorter rates lower), but with the likelihood of less austerity and more inflation putting upward pressure on longer rates.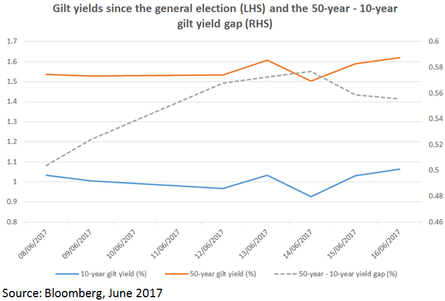 In the middle of last week, gilt yields fell as a result of weak data such as lower than expected inflation in the US and weaker wage growth in the UK, despite higher than expected UK inflation. However, the market was wrong-footed by a more hawkish Monetary Policy Committee (MPC) last Thursday, and gilt yields more than erased their midweek falls. The vote on interest rates was 5-3 (five MPC members voting in favour of no change, and three advocating an increase), having been 7-1 the prior month.
We suspect the gilt and currency markets were probably pricing in a score of 6.5-1.5. MPC member Michael Saunders had been talking hawkishly and voting dovishly, but, in the end, he and Ian McCafferty (a previous hawk) joined Kristin Forbes in voting for an increase. Sterling was the beneficiary of this increasing hawkishness; having declined from €1.155 to €1.130 in the two days after the election, it rallied to €1.145 last Thursday.
In the wake of the election, we had eliminated both our sterling short and gilt short in the Global Dynamic strategy.
More recently, on Tuesday morning of this week, we saw gilts bounce and sterling slump following Mark Carney's Mansion House breakfast speech, in which he made very clear his view that the time is not yet right to raise rates, citing such factors as low consumer spending, subdued inflation and weak wage growth. In our view, this seems to be an overreaction from investors; after all, this is not new news – we knew last Thursday that Carney didn't vote to increase rates.
On balance, we doubt the MPC will increase interest rates over the next few months, not least because a longstanding dissenter, Kristin Forbes, leaves the MPC at the end of this month, but also because, although inflation is still rising, activity is slowing (as seen in last Thursday's retail sales data). Some of this weakness may be attributable to pre-election uncertainty, but the indecisive result is unlikely to have helped, and it seems more likely that the consumer is feeling the pressure of inflation outstripping wage growth, while business investment is depressed by Brexit uncertainty (which has only been increased by the election).
Despite this emerging slowdown, and in spite of this week's rise in yields, we still think gilts offer poor compensation for risk, with consumer price index (CPI) inflation running at 2.9% and unlikely to have peaked, and given the likelihood of further fiscal slippage. As such, our gilt strategies are currently about one year shorter than their comparative indices.
Any reference to a specific security, country or sector should not be construed as a recommendation to buy or sell investments in those countries or sectors. Please note that holdings and positioning are subject to change without notice.