The freezing of several large UK property funds in recent weeks has put renewed scrutiny on their underlying asset values. As interest rates have fallen and quantitative easing has taken effect around the world, much of the excess liquidity has found its way into property. And what do you do if prices rise? Build more!
As a result, construction has boomed, especially in London. Our proprietary Blackfriars Bridge Crane Index (compiled walking across Blackfriars Bridge each morning en route to the office, see below) is bouncing around its highs, and anyone who gets the train from Waterloo or Victoria can see the huge number of flats being built around the former Battersea Power Station. To make matters worse, many of these flats have been bought by investors who have paid a deposit in the hope of being able to sell them on at higher price before having to make the final payment. And it's not just in London where building is accelerating; go into virtually any provincial English town, and you'll find vast new housing estates sprouting up.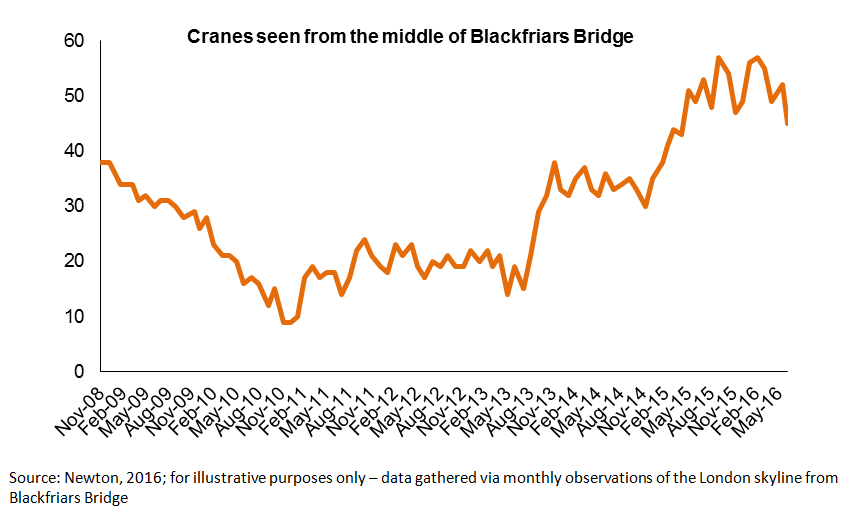 The suspension of withdrawals from some property funds highlights a much bigger issue with certain types of investment – liquidity. Property funds are an extreme example, but to provide daily liquidity in an asset class that can take months to sell does not seem to be very rational, as both the managers of these funds and their investors are now finding out. When things turn down, everyone wants to get out at the same time, but unfortunately they can't.
In running a flexible strategy like Newton Global Dynamic Bond, liquidity forms a very important part of our investment decisions; we want to have confidence we can exit a position when (and at a price) we want to.
Any reference to a specific security, country or sector should not be construed as a recommendation to buy or sell this security, country or sector. Please note that portfolio holdings and positioning are subject to change without notice.