At the end of last year, I discussed here on the blog the evolving political landscape in Europe, and our belief that rising wealth inequality and popular discontent are fuelling political divergence and the growing popularity of populist politics.
With a number of key elections on the horizon, as well as the refugee crisis, the Greek bailout and Italian banking concerns still unresolved, 2017 looks set to be a crucial year for deciding the future of the European Union…
What are the things investors should look out for?
Widening credit spreads in Europe's peripheral countries.
Diverging performance of DAX (Germany), CAC (France) and FTSE MIB (Italy) indices (see chart below).
A move towards populist policies from the major parties; take for example the change of tone from Mark Rutte, the leader of Dutch party VVD, who stated that immigrants should "behave normally or go away".[1] Consequences of this are likely to be fiscal stimulus and restrictive immigration policies.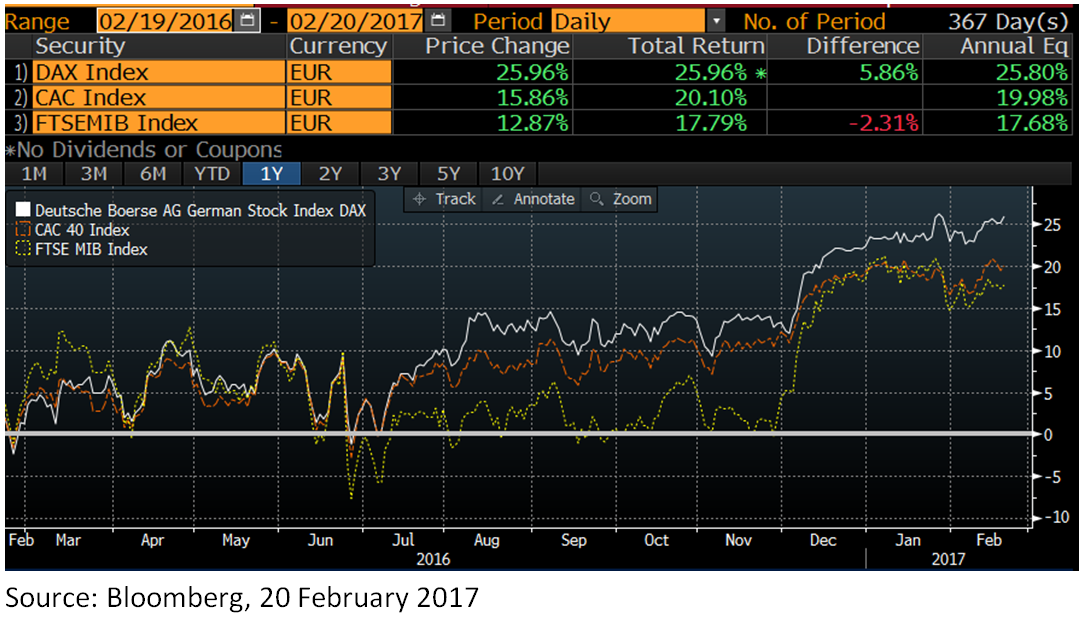 [1] http://www.bbc.co.uk/news/world-europe-38718286
Any reference to a specific security, country or sector should not be construed as a recommendation to buy or sell investments in those countries or sectors.