In what now appears to have been an eerily prescient warning, American software developer and philanthropist Bill Gates predicted in 2015 that the next big threat to humanity was likely to come from a pandemic rather than a war. In a TED talk, the businessman suggested the world was not ready for such an event and needed to prepare for it urgently, highlighting the cost of not doing so both in terms of the humanitarian implications and the potential damage to the global economy.¹
While the first cases of a mysterious new illness emerged in Wuhan, China in late 2019, it was to be several weeks before the novel coronavirus, and its rapid spread, began to dominate global news flow and investor sentiment. With economic data pointing to an improving picture, and the signing of a phase-one trade deal between the US and China on 15 January, equity markets started 2020 on an upbeat note. Emerging markets were hit later in the month as fears grew over the potential impact of the outbreak of the coronavirus in China, but US equities, as represented by the S&P 500 and Nasdaq indices, actually went on to post record new highs in mid-February.²
However, as fears quickly grew that the spread of Covid-19 could not be contained, and as economies across the world began to initiate a series of sustained lockdowns, the remainder of the quarter was dominated by a series of historic, and in some cases record-breaking, market events and interventions from policymakers.
S&P 500 Index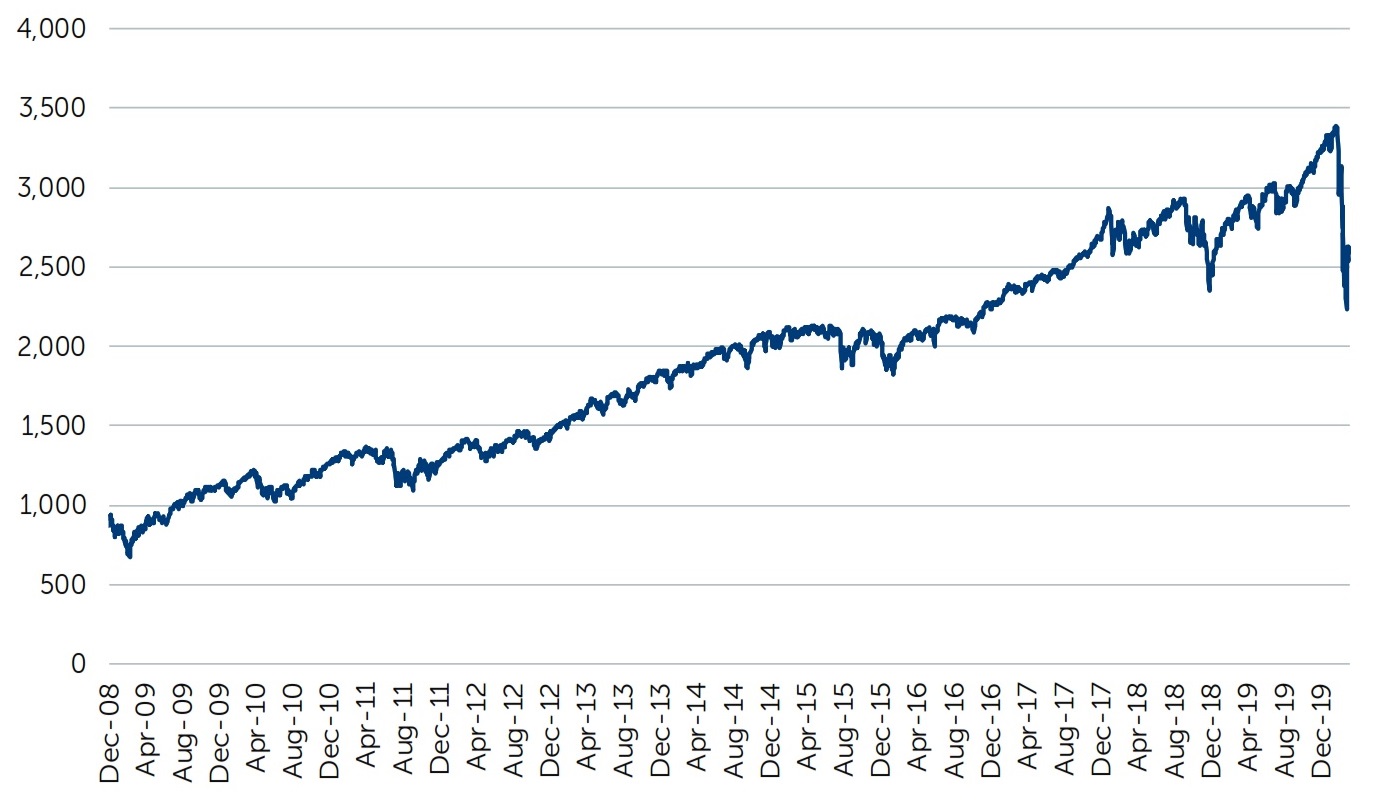 Source: Factset, 31 March 2020
In equity markets, the 11-year-old US bull market came to an abrupt end on 11 March, with the Dow Jones Industrial Average having fallen more than 20% from its mid-February highs.³ On 16 March, the S&P 500 index saw its worst day since the stock-market crash of October 1987, falling 12% in a single day.⁴ 'Circuit breakers', which are designed to temporarily halt trading should the index decline by more than 7%, were triggered several times during the month. The UK's FTSE 100 index saw similarly dramatic plunges, closing down more than 10% on 12 March.⁵
The already fragile situation was exacerbated by an aggressive oil-price war launched by Saudi Arabia, after Russia refused to agree to production cuts proposed by members of OPEC (Organization of the Petroleum Exporting Countries). On 9 March the crude price saw its worst one- day fall since 1991.⁶
Equity-market volatility
CBOE Volatility Index (VIX)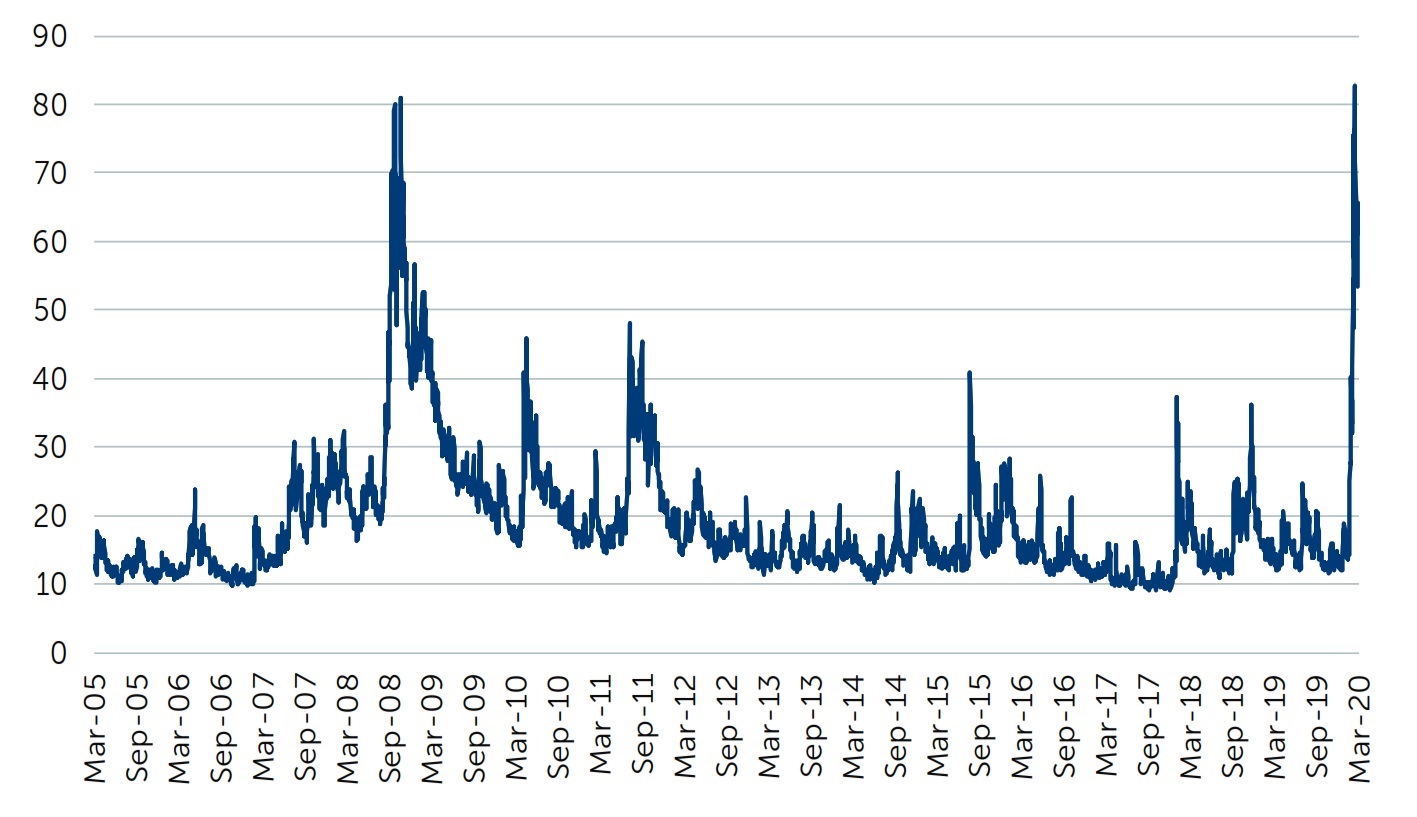 Source: Factset, 31 March 2020.
Unsurprisingly , the equity-market volatility initially resulted in a flight into bonds, with the US 10-year Treasury yield falling below 1% for the first time in early March.⁷ However, the severity of the strain on markets and a rush for liquidity started to affect those assets normally considered as safe havens too, with yields on benchmark US, German and UK government bonds surging later in the month as investors sought cash (bond yields rise as prices fall). Gold also suffered from the need for mass liquidations.
The extraordinary movements across equity and fixed-income markets gave central banks little choice but to act on interest rates. On 15 March, the US Federal Reserve (Fed) cut its main policy rate by a full percentage point to between 0-0.25%, and said it would purchase at least US$700bn of bonds in its quantitative-easing programme over the coming months.⁸ This formed part of a coordinated response from central banks around the world. The Bank of England cut headline interest rates to 0.1%, their lowest level in the Bank's 326-year history, on 19 March,⁹ while the European Central Bank (ECB) announced a new programme to buy €750bn in government and private-sector bonds, as well as commercial paper.¹⁰
This record level of monetary easing has been accompanied by an unprecedented wave of fiscal stimulus designed to offset the pressures on the real economy as businesses face a cash-flow crisis and many workers have lost employment. In the US this amounted to a stimulus package worth in the region of US$2 trillion, equating to around 10% of the country's GDP,¹¹ and described by US Senate majority leader Mitch McConnell as a "a wartime level of investment into our nation".
Towards the end of the quarter such actions appeared to have returned some stability to markets, which have intermittently shown some short-term signs of recovery; on 24 March, for example, the Dow Jones posted its biggest percentage gain since 1933.¹² However, the picture still remains extremely volatile and unpredictable.
In fixed income, developed-market government bonds delivered solid gains over the quarter as a whole, in spite of a sell-off during the liquidity squeeze in March. In the UK, the FTA Government All Stocks Index (gilts) delivered a positive return of +6.3% over the quarter, while the JPM Global Government Bond Index (excluding the UK) returned +10.4% in sterling terms. Corporate bonds, on the other hand, suffered along with other risk assets, with the BofA ML Sterling Non-Gilts Index returning -3.2%.¹³
Equity markets experienced some of the worst drops since the 2008 global financial crisis over the quarter. UK equities delivered a negative return of -25.1%, Asia-Pacific ex Japan equities returned -20.0%, and emerging markets produced a quarterly return of-19.0% for UK investors. Meanwhile, Europe ex UK stocks returned -17.5%, North American equities returned -14.5%, and Japanese equities managed a better but still firmly negative -11.0% in sterling terms.¹⁴
Gold rose by +4.0% over the quarter in US-dollar terms, but sterling's relative weakness meant that the return from the precious metal was +11.0% for UK-based investors.¹⁵

Introducing its sweeping crisis measures on 15 March, the US Federal Reserve stated its readiness to use its "full range of tools" to support the flow of credit to households and businesses, in line with its goals to promote maximum employment and price stability.¹⁶ To put the scale of the Fed's latest asset purchases in context, in its quantitative- easing programme in response to the global financial crisis, the Fed was buying barely US$45bn of US Treasury bonds a month; at the end of March 2020 it bought US$75bn of US Treasury bonds in one day alone.
The crisis has accelerated the growing trend of unifying monetary and fiscal policy to deal with structural issues. In spite of the epic scale of the monetary intervention, Fed Chair Jay Powell emphasised that monetary policy was not the main tool for responding to the sudden economic impact of the virus, and that its prime purpose was to provide liquidity for financial systems under stress, and support demand through lower interest rates.¹⁷ To prop up the economy, the largest fiscal stimulus package in US history, signed into law on 27 March, will offer direct pay cheques (essentially a form of 'helicopter money') to many Americans who cannot work or who have lost their jobs, as well providing loans to both small and large businesses, and giving health-care providers additional resources.
Fed balance sheet (US$bn)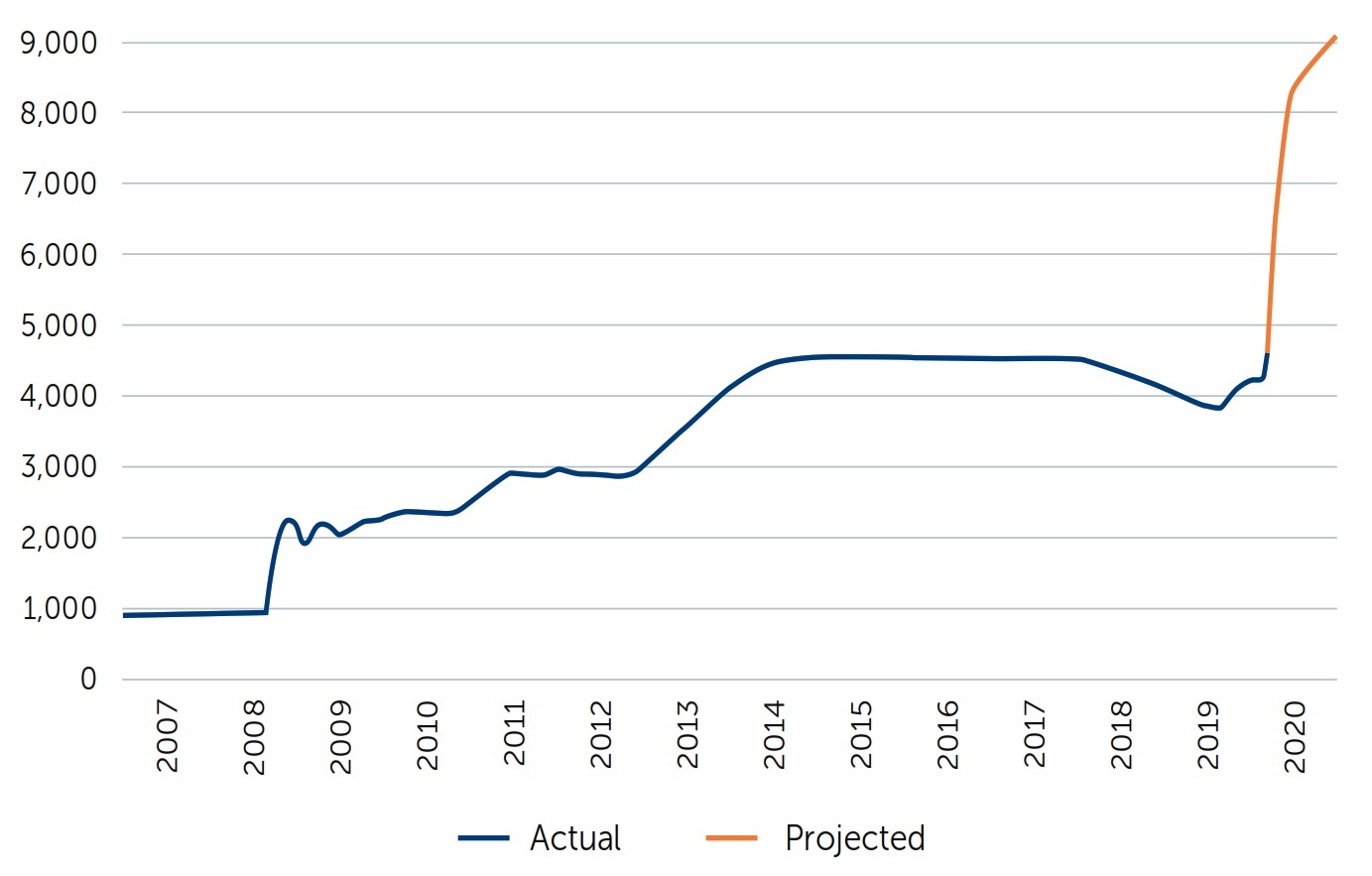 Source: BofA Global Research, Bloomberg, March 2020
The scale of the combined Fed and US government action, especially when viewed in the context of concerted fiscal and financial rescue packages elsewhere in the world, may well provide sufficient support to alleviate the liquidity crisis that has played out in markets. With the expansion of government deficits, it appears feasible that the authorities can also s쳮d in preventing solvency issues in the real economy becoming a systemic event.
With the UK finally leaving the European Union (EU) at the end of January, the country's new government had hoped to spend this year advancing trade deals with the EU, the US and other trading partners. However, such negotiations are now likely to take a back seat over the near term as the world prioritises its response to the pandemic. Indeed, the largest group in the European Parliament has already asked the UK to extend the Brexit transition period.¹⁸
The £330bn fiscal stimulus package that Chancellor Rishi Sunak announced on 17 March (on top of the smaller stimulus and reliefs announced at the Budget earlier in the month)¹⁹ amounts to around 15% of the country's current GDP. Assuming all of the measures announced so far eventually end up on the government's balance sheet, the country's net debt/GDP ratio will leap to around 100%. In the near term, the ratio will look far worse, in view of the likely drop in GDP in the second quarter of this year. However, the chair of the Office for Budget Responsibility, Robert Chote, has agreed that this "whatever it takes" approach is the correct one, given the war-like predicament the country is facing.
The Bank of England Monetary Policy Committee explicitly stated that the £200bn in quantitative easing announced on 19 March – which is as big as any previous round – would be spent on buying gilts, after yields had risen violently in reaction to the substantial fiscal packages announced (and the knock-on effect on gilt issuance), and threatened to make the cost of these measures very high.
In Europe, the ECB's initial response to the crisis had been to announce only a modest increase in its quantitative-easing programme, and this, together with very poor market liquidity, pushed sovereign spreads in the euro area wider versus German bunds, defying comments from ECB President Christine Lagarde that this would not be allowed to happen.
The €750bn debt-buying package announced on 19 March was notable not only for its size, but also because for the first time it included Greek government bonds in the purchase plan. We would anticipate that these purchases should provide some
backstop to the rise in non-German sovereign-bond yields, along with extra support for the corporate bond market.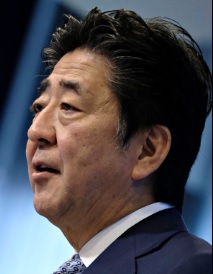 However, as in other regions, cash is becoming the overriding concern for individuals, companies and suppliers who need to get paid. In this regard, government spending through initiatives such as tax cuts, benefit increases or loan guarantees will be critical, and many leading commentators such as former ECB President Mario Draghi have advocated big increases in public debt levels.²⁰ It also seems plausible that a pan-eurozone bond, which all members would issue as one group, could be on the cards, potentially enabling eurozone countries with lower credit ratings to benefit from Germany's AAA credit quality.
On 24 March, Japan's Prime Minister, Shinzo Abe, finally bowed to the inevitable and announced that the 2020 Tokyo Olympics would be postponed until the summer of 2021. The delay will be a big economic blow to the country's faltering economy, which had seen a large boost from tourism since it won the right to host the games. The government is expected to introduce a large emergency fiscal stimulus package during April which could include the reversal of a recent consumption tax increase.
Bank of Japan ETF purchases ( ¥ trillion)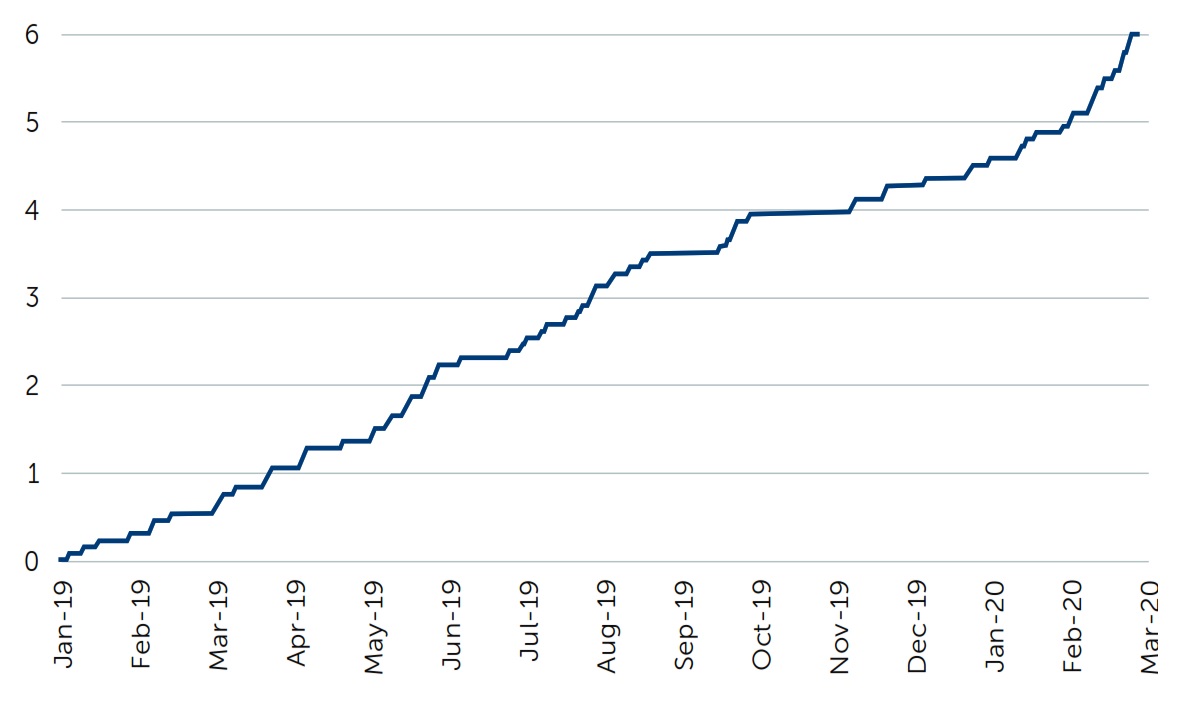 Source: Bank of Japan, March 2020
Following the Fed's interest-rate cut to zero, the Bank of Japan pushed the boundaries of its controversial equity-buying programme on 16 March by doubling its annual target of exchange-traded fund (ETF) purchases to ¥12 trillion and introducing a new lending facility.²¹ Although the Bank of Japan opted not to lower interest rates further into negative territory, its Governor Haruhiko Kuroda indicated that more cuts were an option. However, with the central bank having held rates at or below zero for a decade, the options available to it appear limited.
In China, the epicentre of the coronavirus outbreak, official data showed that the country's industrial output contracted at the fastest pace on record in the first two months of the year.²² Compared to some of its Western counterparts, China's economic response to the crisis has so far been relatively subdued. The People's Bank of China has cut the reserve requirement ratio for banks, allowing the country's financial institutions to lend an additional RMB550bn (around US$79bn).²³ China has also indicated that it will gradually lower interest rates in the coming months, while it has been discussing a savings deposit rate cut that would enable banks to lend more.
There are already tentative signs that the country may have turned the corner in fighting the virus, with Chinese health authorities now reporting no new cases of locally transmitted cases on an almost daily basis, and many businesses resuming production. With President Xi Jinping focused on achieving the target of doubling China's GDP between 2010 and 2020, there is likely to be a concerted effort on sustaining growth over the coming months. However, even in a best-case scenario, the World Bank forecasts that China's growth for 2020 will fall to 2.3%, compared to 6.1% in 2019.²⁴ Should lockdowns continue over the longer term, the growth rate could be much lower.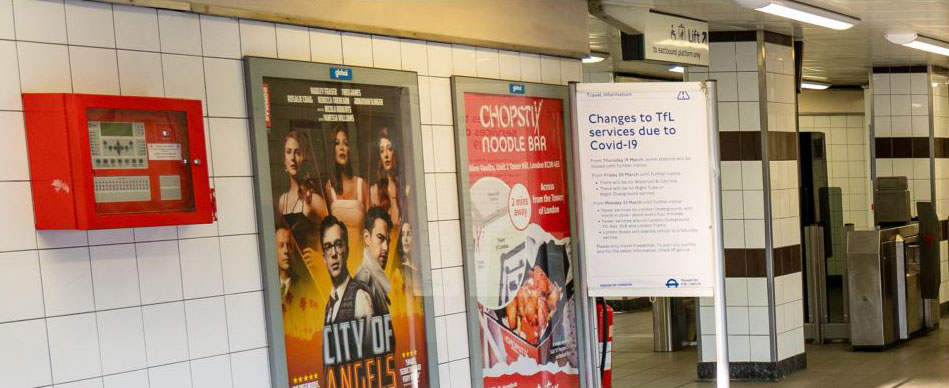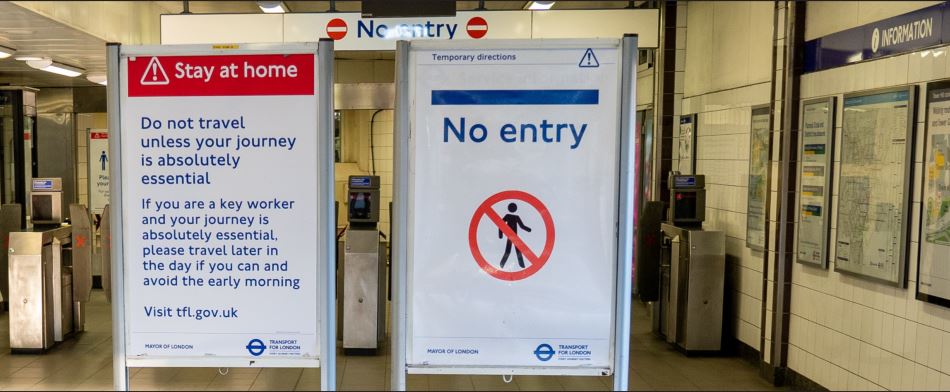 There's no need to panic … but we need to get going.

Bill Gates, March 2015
1 https://www.ted.com/talks/bill_gates_the_next_outbreak_we_re_not_ready
2 https://www.cnbc.com/2020/02/19/stock-market-wall-street-in-focus-amid-coronavirus-outbreak.html
3 https://www.ft.com/content/5db09f76-634b-11ea-a6cd-df28cc3c6a68
4 https://www.ft.com/content/82c5c2ca-670e-11ea-800d-da70cff6e4d3
5 https://www.bbc.co.uk/news/business-51829852
6 https://www.cnbc.com/2020/03/08/oil-plummets-30percent-as-opec-deal-failure-sparks-price-war-fears.html
7 https://www.ft.com/content/1e81644c-5d7f-11ea-8033-fa40a0d65a98
8 https://www.ft.com/content/a9a28bc0-66fb-11ea-a3c9-1fe6fedcca75
9 https://www.theguardian.com/business/2020/mar/19/bank-of-england-cuts-interest-rates-to-all-time-low-of-01
10 https://www.ft.com/content/711c5df2-695e-11ea-800d-da70cff6e4d3
11 https://www.ft.com/content/2c70c1d5-b14e-4584-bd32-bb674dde3d9a
12 https://www.bloomberg.com/news/articles/2020-03-23/asian-stocks-look-to-steady-dollar-gains-markets-wrap
13 Bond market returns sourced from FactSet, 01.04.20
14 Equity market returns sourced from FactSet, 01.04.20 (All sterling total returns, FTSE World Index)
15 Gold bullion returns sourced from FactSet, 01.04.20
16 https://www.federalreserve.gov/newsevents/pressreleases/monetary20200315a.htm
17 https://www.ft.com/content/a9a28bc0-66fb-11ea-a3c9-1fe6fedcca75
18 https://www.theguardian.com/politics/2020/mar/30/extend-brexit-transition-by-years-over-coronavirus-uk-told
19 https://www.ft.com/content/088b9ca6-6875-11ea-800d-da70cff6e4d3
20 https://www.ft.com/content/c6d2de3a-6ec5-11ea-89df-41bea055720b
21 https://www.ft.com/content/fd403436-674a-11ea-800d-da70cff6e4d3
22 https://www.ft.com/content/318ae26c-6733-11ea-800d-da70cff6e4d3
23 https://www.ft.com/content/deb56f86-6515-11ea-b3f3-fe4680ea68b5
24 https://www.ft.com/content/4f0c7a40-1512-4ee6-bb58-fc59ad845eff
All data is sourced from FactSet unless otherwise stated. All references to dollars are US dollars unless otherwise stated.
Issued by Newton Investment Management Limited, The Bank of New York Mellon Centre, 160 Queen Victoria Street, London, EC4V 4LA. Registered in England No. 01371973. Newton Investment Management is authorised and regulated by the Financial Conduct Authority, 12 Endeavour Square, London, E20 1JN and is a subsidiary of The Bank of New York Mellon Corporation. Newton Investment Management Limited is registered with the SEC as an investment adviser under the Investment Advisers Act of 1940. Newton's investment business is described in Form ADV, Part 1 and 2, which can be obtained from the SEC.gov website or obtained upon request. The opinions expressed in this document are those of Newton and should not be construed as investment advice. Any reference to a specific security, country or sector should not be construed as a recommendation to buy or sell this security, country or sector. To the extent that copyright subsists in any picture used in this document, Newton recognises the copyright therein.