As Spain's top football division, La Liga, made its behind-closed-doors return on 11 June (following a suspension of almost three months owing to the coronavirus pandemic), TV viewers watching Sevilla beat local rivals Real Betis were presented with a strange virtual reality of computer-generated fans accompanied by artificial crowd noise – an attempt to create atmosphere in the empty stadium.1 During the second quarter, equity markets also appeared at times to be detached from reality, as they rebounded strongly from their March lows in spite of a grim economic outlook and growing fears of a resurgence of the virus.
Fuelled apparently by the unprecedented wave of central-bank stimulus measures, equity markets recovered a significant proportion of the losses experienced in the first quarter. US stocks, as represented by the S&P 500 index, in fact saw their biggest quarterly return since 1998, while other major developed and emerging-market indices also delivered double-digit gains.2
As Western economies began to emerge from lockdown, markets were buoyed by growing evidence that the Chinese economy, widely viewed as the engine driving global growth, was regaining its momentum after being hit particularly hard as the epicentre of the virus outbreak earlier in the year. The pullbacks that did interrupt the market rally during the quarter were typically driven by fears of rising infection rates, such as those experienced in southern and western US states towards the end of June. Geopolitics were also a concern from time to time as the US and China exchanged hostile rhetoric across a range of issues including trade, technology and political change in Hong Kong.
Financial-market participants did not, however, appear unduly worried by a series of warnings which highlighted the extent to which the coronavirus crisis would negatively affect the world economy. The International Monetary Fund (IMF) predicted in April that 2020 would see the worst global economic contraction since the Great Depression of the 1930s. In June, the IMF made a downward revision to its forecast, stating that the global economy would shrink by 4.9% in 2020, and that, by the end of 2021, global GDP was set to be 6.5% smaller than it had foreseen at at the start of 2020.3  The IMF has also highlighted how public debt in both developed and emerging economies is this year projected to reach its highest level in recorded history as a share of GDP.4
Quarterly world GDP
(2019: Q1=100)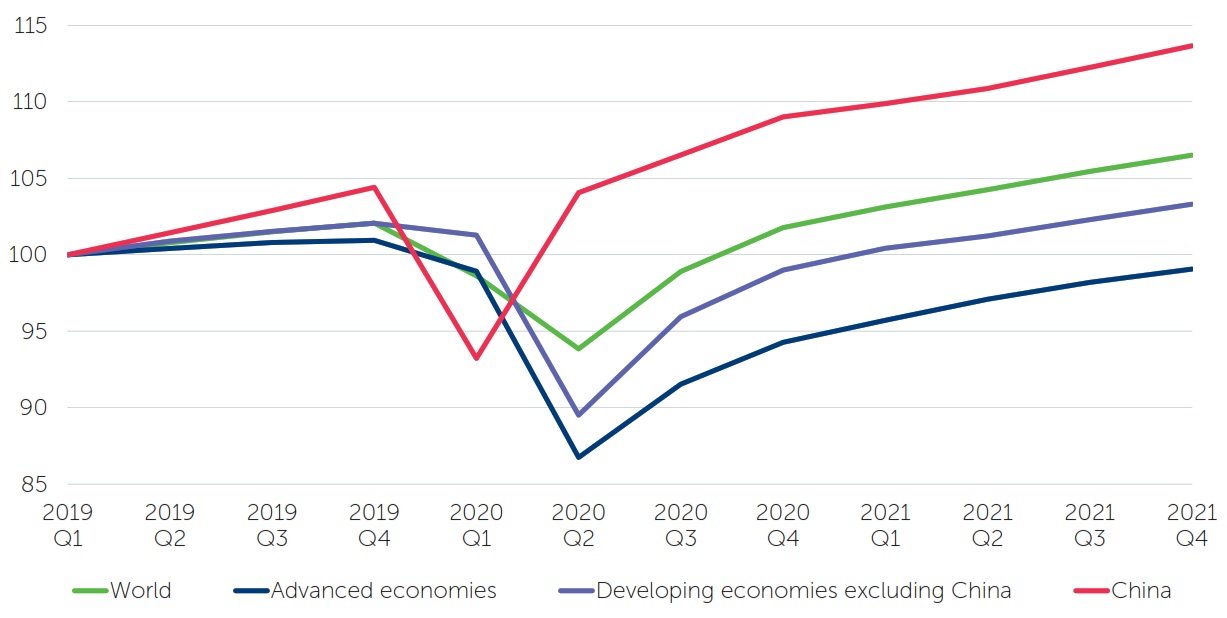 Source: IMF staff estimates, June 2020
The Organisation for Economic Cooperation and Development (OECD) offered an even more downbeat forecast, predicting that the global economy would contract by 6% in 2020, assuming that a second wave of virus outbreaks does not trigger a return to lockdowns.5 Believing a 'V'-shaped recovery to be unlikely, its chief economist Laurence Boone has stated that, by the end of 2021, the loss of income will exceed "that of any previous recession over the last 100 years outside wartime, with dire and long-lasting consequences for people, firms and governments."6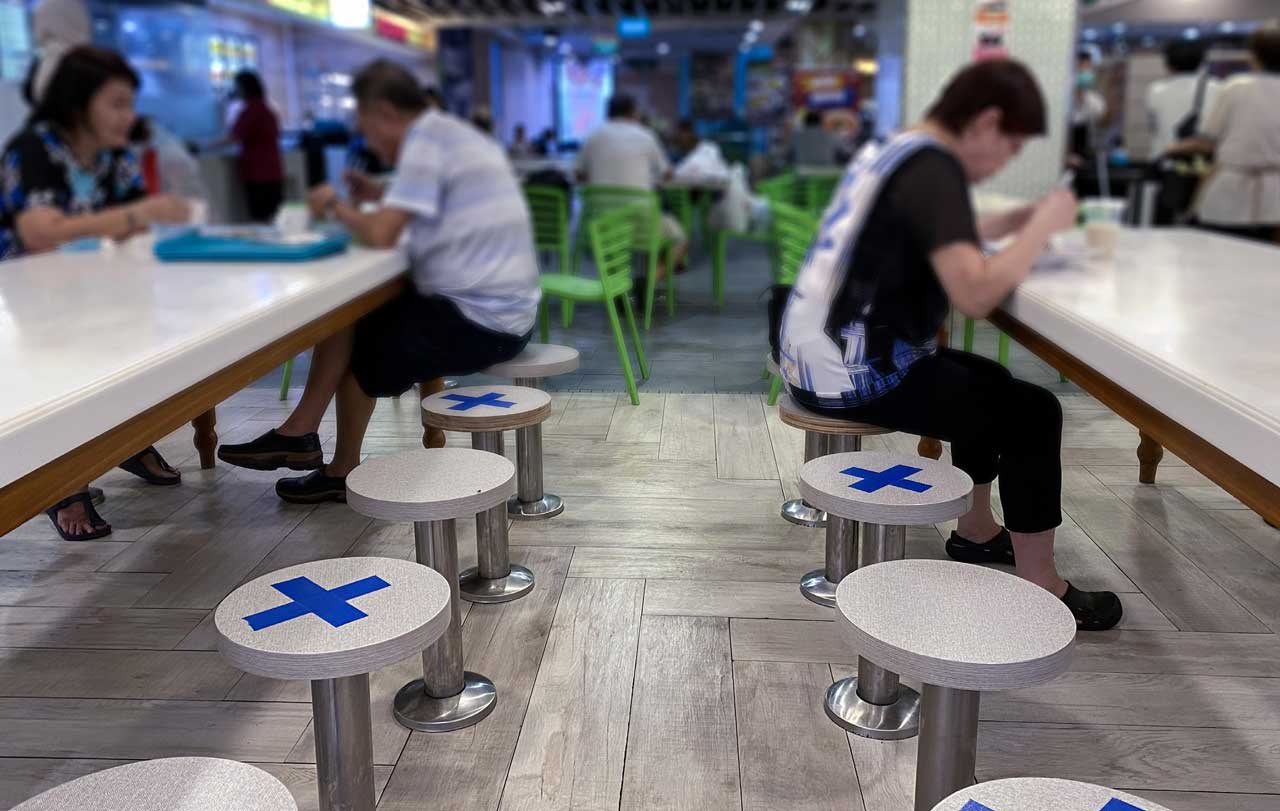 In fixed income markets, developed-market government bonds delivered positive returns over the second quarter, but these were more muted than during the first three months of the year as risk assets bounced back from the sell-off in March. In the UK, the FTA Government All Stocks Index (gilts) delivered a positive return of +2.5% over the quarter (+8.9% over the half year), while the JPM Global Government Bond Index (excluding the UK) returned +1.8% in sterling terms for the quarter, with a half-year return of +12.3%. Corporate bonds, on the other hand, benefited from the 'risk-on' environment, with the ICE BofAML Sterling Non-Gilts Index returning +6.8% for the quarter (+3.4% over six months).7
In sharp contrast to the previous quarter, all major equity markets delivered resoundingly positive returns. North American equities returned +21.9% in sterling terms over the quarter (+4.3% over the half year), and Asia-Pacific ex Japan equities returned +21.5% (-2.8%), while Europe ex UK and emerging-market equities each delivered quarterly returns of +18.9% (-1.9% and -3.7% respectively over six months). Meanwhile, Japanese stocks returned +12.2% (-0.1%) to UK investors, and UK equities returned +10.2% over the quarter (-17.5% over six months).8
Gold posted its best quarterly return in four years (+12.8% in US-dollar terms), taking its six-month return to +17.3%. In sterling terms, the precious metal delivered +13.0% (+25.5% over the half year).9 Given the expansionary policy tools implemented by central banks worldwide, the traditional safe haven is likely to have been favoured as a hedge against the potential resurgence of inflation expectations.
Gold price
(US$/ozt)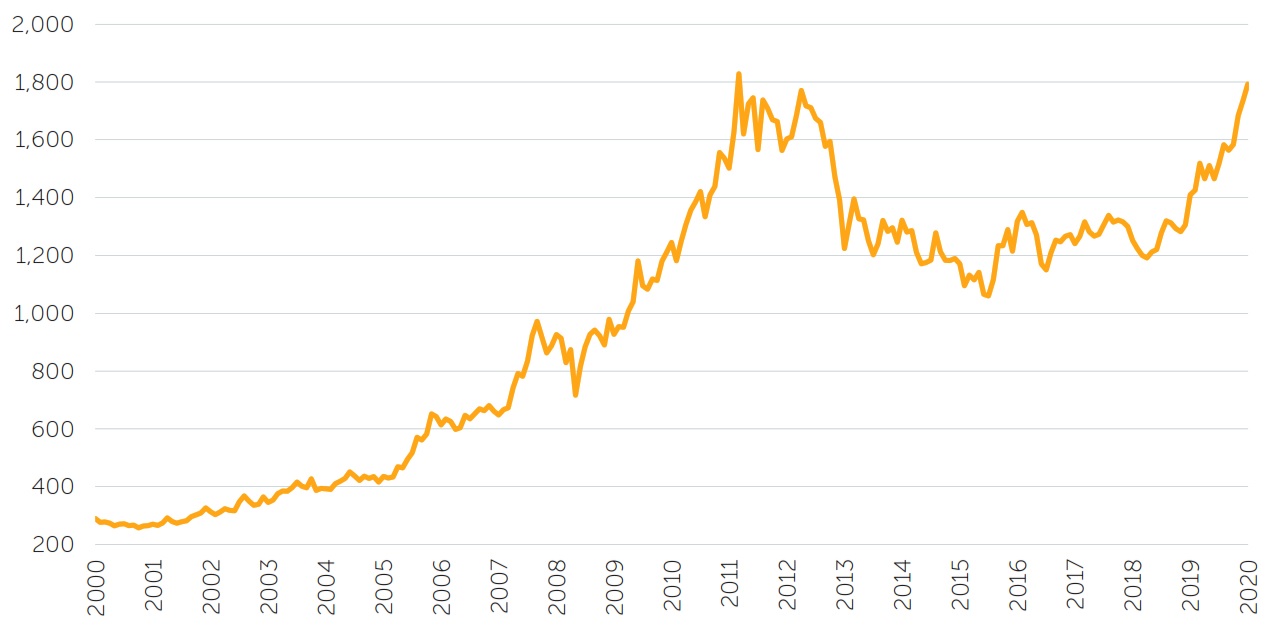 Source: FactSet, July 2020.
The enormous impact the virus has already had on the world's largest economy is illustrated by a staggering surge in unemployment figures. Since US unemployment fell to a 50-year low of 3.5% at the end of 2019, more than 47 million Americans have sought unemployment benefits following the pandemic-induced shutdown. While the rate of new applications has fallen off as the economy has begun to reopen, the number of people actively collecting benefits still stood at almost 20 million in June, representing 13.4% of the country's workforce.10 Nevertheless, with a jobs report showing the US economy created 2.5 million jobs in May, Republican politicians have resisted calls for a further large fiscal stimulus package.
Other US economic data released in June, such as manufacturing and services surveys, core capital goods orders and new home sales, have boosted hopes of economic revival in the country. However, in a dovish June statement from its Federal Open Market Committee (FOMC), the US Federal Reserve (Fed) emphasised the continuing nature of the health crisis and the considerable risks to the economic outlook over the medium term, committing to use its "full range of tools to support the US economy in this challenging time".11 Suggesting it could take years to bring joblessness back down to pre-pandemic levels, the Fed predicted that interest rates would stay close to zero until at least the end of 2022, with Chair Jay Powell remarking: "We're not thinking about raising rates. We're not even thinking about thinking about raising rates."12
The US central bank also reassured market participants by reaffirming its commitment to continue its asset-purchasing programme "at least at the current pace to sustain smooth market functioning". The Fed was buying approximately US$20bn of US Treasuries per week in June; while this was considerably lower than the rate of purchases earlier in the quarter, it still exceeds the measures taken during the height of the global financial crisis. Mr Powell has also indicated that the Fed is analysing the potential benefits of a 'yield-curve control' policy which would cap yields on certain maturities at a specific level.
In the UK, it was revealed in June that a woman recently furloughed from work owing to the pandemic had been able to hatch three ducklings from eggs she purchased from a supermarket.13 The UK government, however, was unable to hatch a plan to stop the country's public debt exceeding the size of the economy for the first time since 1963, as it launched a number of expensive stimulus measures, including a furlough scheme and several business loan programmes.14
The UK's economy was revealed to have shrunk by more than 20% in April. The country has been particularly badly hit by the pandemic as much of its large service sector, which represents around 80% of the economy, has been forced to close during the lockdown.15 With the deadline by which the UK could have requested an extension to its transition period with the European Union (EU) now having passed, business leaders have expressed their concern about the potential damage a 'no-deal' outcome to the trade negotiations could bring on top of the upheaval already caused by the coronavirus.16
UK public sector net debt as % of GDP

Source: Office of National Statistics, HM Treasury, June 2020.
Against this backdrop, June's meeting of the Bank of England's (BoE) Monetary Policy Committee resulted in a less dovish outcome than some market participants had been expecting. While the BoE agreed to boost its bond-buying programme by £100bn, it also moved to slow the pace of its asset purchases. Furthermore, the minutes indicated that a move to negative interest rates was unlikely to be imminent.17
With restrictions to halt the spread of the coronavirus leading to a dramatic fall in demand for Belgium's famous fries, the country's citizens have been encouraged to eat an extra portion of the potato product every week to help support the food industry.18 European Commission President Ursula von der Leyen, however, is planning an initiative on an altogether much larger scale to help hard-pressed EU member states recover from the pandemic, with the eurozone's economy predicted to shrink by around 10% this year.19
While the precise details of the proposed €750bn virus recovery fund are yet to be agreed, if approved it would recognise the requirement for a fiscal approach to avoid the EU being fractured along economic lines, and would in effect entail partial mutualisation of EU members' debts. Harnessing the ability of the economically stronger EU members to raise unprecedented sums on the capital markets, the money would be used to finance grants to be distributed through a common European budget, prioritising those regions worst hit by the pandemic.
In the meantime, in order to relieve the strain on those countries worst affected by the virus, the European Central Bank has waived its capital key limits to allow it to take on larger amounts of Italian debt, and it has also bought Greek debt for the first time since 2012, breaking its rule against buying non-investment grade bonds.
Although Japan has recorded only a fraction of the coronavirus infections or deaths seen in other leading economies, and ended its Covid-19 'state of emergency' in late May, its economy has been tipped into recession by the pandemic; consumer spending had already slowed dramatically following the introduction of a consumption tax last autumn.
The country's central bank has continued to provide extraordinary monetary support via its yield-curve control policy, while maintaining its -0.1% interest rate and indicating that rates would not rise until at least 2023.20 Japan's government also unveiled two fiscal stimulus packages over the quarter, each worth around ¥117 trillion, which combined represent around 40% of the country's GDP,21 and have been trumpeted by Prime Minister Shinzo Abe as the world's biggest virus-related programme. As a consequence, Japan's debt-to-GDP ratio will rise well above its already sky-high level of around 240%.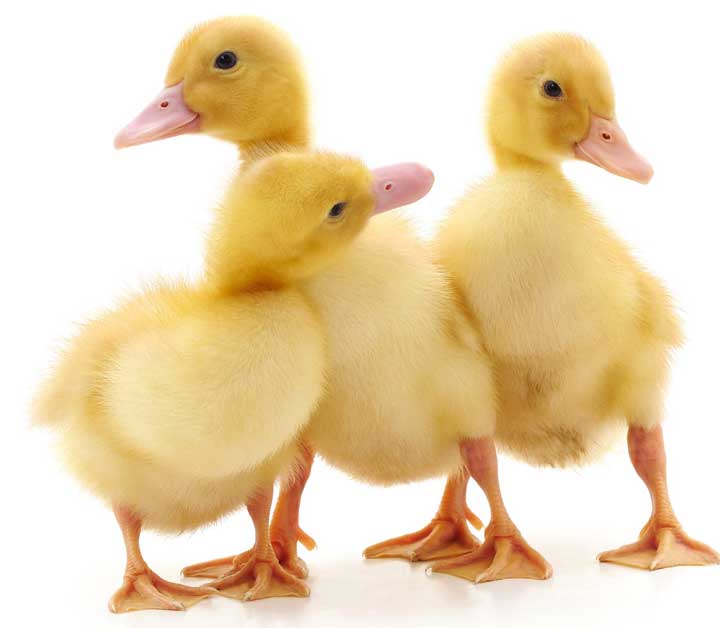 As China's economy shrank for the first time since the 1970s, with GDP for the first quarter falling 6.8% year on year following the coronavirus outbreak,22 the National People's Congress (NPC) refrained from setting a GDP target for the first time, although Premier Li Keqiang cited the uncertainty of foreign markets rather than domestic conditions as the reason. At the NPC meeting, a RMB6.1 trillion (US$853bn) stimulus package was also announced.23 While this will include major infrastructure projects such as building next-generation information networks and 5G applications, it is not on the same scale as the aggressive interest-rate cuts and large-scale bond purchases undertaken by the US and Europe.
Although China reported a slowdown in exports as Western economies struggled to reopen their economies, there was better news about domestic business activity: the Caixin manufacturing purchasing managers' index, which measures factory activity in the country, reported growth in May, with the pace picking up in June,24 boosting confidence that the economy was turning the corner.
If you do not take advantage of your chances, you can pay for it.

Julen Lopetegui, manager, Sevilla FC
1 https://www.eurosport.com/football/liga/2019-2020/football-news-virtual-is-the-reality-as-la-liga-paves-a-noisier-path-for-premier-league-to-follow_sto7772473/story.shtml
2 Source: FactSet, 01.07.20
3 https://www.imf.org/en/Publications/WEO/Issues/2020/06/24/WEOUpdateJune2020
4 https://blogs.imf.org/2020/06/24/reopening-from-the-great-lockdown-uneven-and-uncertain-recovery/
5 http://www.oecd.org/economic-outlook/june-2020/
6 https://www.ft.com/content/498b43bf-4813-40f8-9953-022e0d7820b5
7 Bond market returns sourced from FactSet, 01.07.20
8 Equity market returns sourced from FactSet, 01.07.20 (All sterling total returns, FTSE World Index)
9 Gold bullion returns sourced from FactSet, 01.07.20
10 https://www.ft.com/content/8e204816-fd60-4535-a23e-527f2582c114
11 https://www.federalreserve.gov/newsevents/pressreleases/monetary20200610a.htm
12 https://www.ft.com/content/e9d79319-492d-45cb-b491-fd61cc90effc
13 https://www.bbc.co.uk/news/uk-england-beds-bucks-herts-52838747
14 https://www.ft.com/content/57974640-8bea-448c-9d0b-32f34825f13e
15 https://www.ft.com/content/f25dc58b-32c9-499d-af66-f677f20c53a2
16 https://www.ft.com/content/e4da78ae-a428-4466-9721-d3841cc0e005
17 https://www.ft.com/content/9c2744fa-5162-489d-b117-18b2df88b6bd
18 https://uk.reuters.com/article/uk-health-coronavirus-belgium-potatoes/do-your-bit-for-farmers-and-eat-more-fries-belgians-urged-idUKKBN22B2OA
19 https://www.ft.com/content/a165a7c9-85d8-4ec9-9a1a-70d86412ac07
20 https://www.ft.com/content/5d8e5df2-dfb6-44f1-a434-ab8a745d37ba
21 https://uk.reuters.com/article/us-health-coronavirus-japan-stimulus/japan-approves-fresh-1-1-trillion-stimulus-to-combat-pandemic-pain-idUKKBN2323D3
22 https://www.ft.com/content/8f941520-67ad-471a-815a-d6ba649d22ed
23 https://www.ft.com/content/ac505d52-84fb-4c20-b17d-a9d463cea3a2
24 https://www.ft.com/content/1aa67fd2-b516-406b-9876-ec4e1c7f7fdf
25 Source: Factset, 01.07.20
All data is sourced from FactSet unless otherwise stated. All references to dollars are US dollars unless otherwise stated.
Issued by Newton Investment Management Limited, The Bank of New York Mellon Centre, 160 Queen Victoria Street, London, EC4V 4LA. Registered in England No. 01371973. Newton Investment Management is authorised and regulated by the Financial Conduct Authority, 12 Endeavour Square, London, E20 1JN and is a subsidiary of The Bank of New York Mellon Corporation. Newton Investment Management Limited is registered with the SEC as an investment adviser under the Investment Advisers Act of 1940. Newton's investment business is described in Form ADV, Part 1 and 2, which can be obtained from the SEC.gov website or obtained upon request. The opinions expressed in this document are those of Newton and should not be construed as investment advice. Any reference to a specific security, country or sector should not be construed as a recommendation to buy or sell this security, country or sector. To the extent that copyright subsists in any picture used in this document, Newton recognises the copyright therein. This material is for Australian wholesale clients only and is not intended for distribution to, nor should it be relied upon by, retail clients. This information has not been prepared to take into account the investment objectives, financial objectives or particular needs of any particular person. Before making an investment decision you should carefully consider, with or without the assistance of a financial adviser, whether such an investment strategy is appropriate in light of your particular investment needs, objectives and financial circumstances. Newton Investment Management Limited is exempt from the requirement to hold an Australian financial services licence in respect of the financial services it provides to wholesale clients in Australia and is authorised and regulated by the Financial Conduct Authority of the UK under UK laws, which differ from Australian laws. Newton is providing financial services to wholesale clients in Australia in reliance on ASIC Corporations (Repeal and Transitional) Instrument 2016/396, a copy of which is on the website of the Australian Securities and Investments Commission, www.asic.gov.au. The instrument exempts entities that are authorised and regulated in the UK by the FCA, such as Newton, from the need to hold an Australian financial services license under the Corporations Act 2001 for certain financial services provided to Australian wholesale clients on certain conditions. Financial services provided by Newton are regulated by the FCA under the laws and regulatory requirements of the United Kingdom, which are different to the laws applying in Australia. 'Newton' and/or the 'Newton Investment Management' brand refers to Newton Investment Management Limited.