Our session: The great inflation debate : stagflation or disinflationary boom?<br>
A capital allocator's dilemma in a zero-yield world with higher inflation is how to construct a robust, balanced portfolio that can also withstand equity-market sell-offs.

Other speakers:
Chair: Colin Tate AM, Chief executive, Conexus Financial
Investor response: Chris Worthington, senior investment strategist, asset allocation, New Zealand Super

Aron Pataki
Portfolio manager, Real Return team
Important information
This content is for Australian wholesale clients only and is hosted on a third-party website outside of Newton Investment Management Limited's control. By clicking on this link you are agreeing that you can continue. This video was recorded by Conexus Financial Investment Magazine in September 2021. The opinions expressed in this video are not necessarily those of Newton Investment Management Limited.
A monetary regime change or just a mild bout of inflation?
A monetary regime change is a potential game-changer for investors, who may need a new toolkit for managing risk. In particular, it presents a challenge in terms of how to structure a robust, balanced portfolio that can both meet its return objective, and be able to withstand equity-market sell-offs

Read paper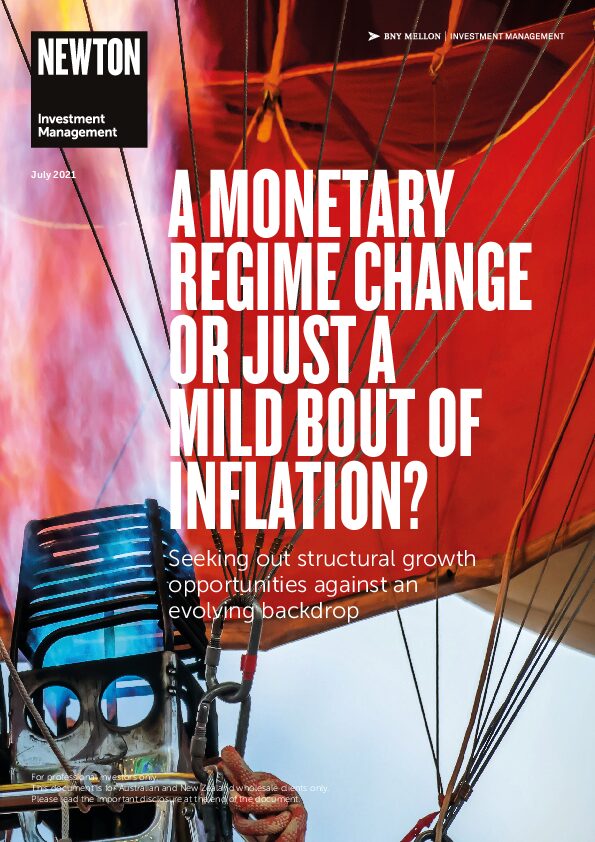 About Newton
Newton is a global investment management group owned by BNY Mellon.
Our story is one of purpose – to improve people's lives by investing in a way that strives to deliver attractive outcomes to our clients and to help foster a healthy and vibrant world for all.
Featured strategies
We focus on delivering outcomes for our clients across equity opportunities, income, absolute return (including fixed income), multi-asset solutions, thematic and sustainable strategies.
Contact us
In Australia, we work closely with our parent company, BNY Mellon Investment Management, to offer a range of strategies to public and private-sector superannuation funds, corporations, and individuals.